LEADERS IN AUSTRALIAN ESPORTS
Welcome to ESL Australia - local division of ESL, and the leaders in Australian esports. We offer services including end-to-end esports project management, live broadcast production, & brand partnerships.
We operate Australia's largest esports, gaming & lifestyle events, including the Intel® Extreme Masters, DreamHack Melbourne, and the ESL Stage™ at PAX Arena. In 2021, we reached over 3 million Australian esports fans through our products, and in a blind survey* ranked highest amongst all tournament organisers when Australian gamers were asked "What companies come to mind when you think of esports."
Some of our clients include AAA publishers such as Activision Blizzard, Microsoft, Riot Games, Ubisoft, Wargaming and many more who we've worked with to deliver Australia's best gaming events, exhibition stands, live video streams, brand activations, technical crew, and league products.
* Survey, Conducted on Reddit Targeting Australian Gamers, 2019. 110 Responses.
Our services in Australia
Esports Broadcast &
Production services
ESL Australia offers a wide range of live broadcast services, with unmatched experience in live gaming & esports content. Since 2014, our professional broadcast team have been producing, staffing, & managing broadcasts to all major online platforms & linear TV.
Some notable broadcasts include IEM Sydney (20 mil. unique viewers online), the League of Legends Circuit Oceania (LCO), PAX Arena & more.
Our broadcast production services include:
Brand partnerships &
activations
We can offer brands access to Australia's widest esports audience, with over 2 million unique viewers tuning into our national leagues & products.

Our social media channels are followed by tens of thousands of esports and games fans, and offer an opportunity to engage with a tech-savvy, hard-to-reach market.
Opportunities available now include:
Esports & Gaming event staffing &
Project management
Our team of expert staff know gaming. Whether you're after a solution to staff a 2 hour activation, or a 6-month-long national program, we have the resources to help you succeed.
In previous years, our team of gaming experts has staffed over 60% of publisher booths on the PAX Australia main showfloor, and provided end-to-end booth management for a number of major activations including Xbox, Red Bull Omen, Logitech, and Plantronics.
What we can do to help your event:
How can we help you with your project ?
Australia's Biggest Gaming, Esports & Lifestyle Festival takes over Melbourne Olympic Park
DreamHack Melbourne is where the gaming community in Australia comes together. Supported by Visit Victoria, DreamHack Melbourne was attended by over 21,000 fans in its second year (2023). DreamHack festivals around the world feature elements of gaming, esports tournaments, influencer & streamer meet & greets, cosplay competitions, and much, much more.
Australia's Biggest Esports Tournament
The League of Legends Circuit Oceania is Australia & New Zealand's most-watched esports circuit locally. As part of the official Riot-supported ecosystem, our league features eight of the best League of Legends teams in Oceania, battling it out across two splits each year for the ultimate chance to take an international title.
The ESL Stage @ PAX Arena
Working in partnership with Reed Exhibitions & Events for over 5 years, the ESL Stage at the PAX Arena, PAX Australia features a variety of competitions, from open tier to professional level each year. With over 50,000 attendees at PAX Australia each year, the ESL Stage offers casual gaming fans an opportunity to experience esports, and brands to connect with an engaged audience at PAX Australia's biggest esports stage. The ESL Stage is currently open for partnership enquiries in 2020.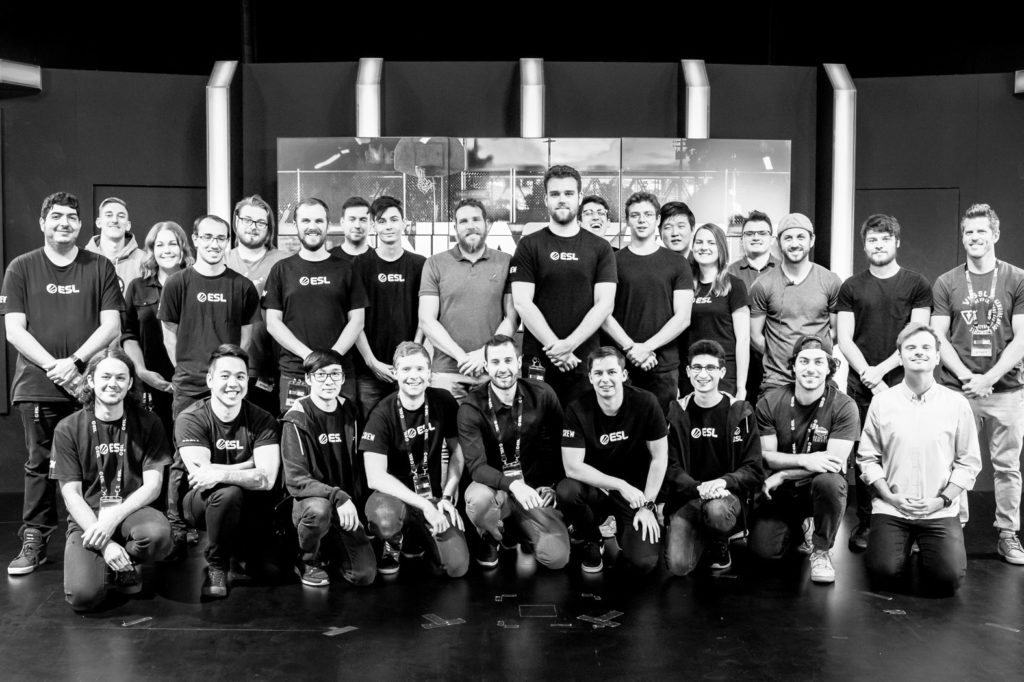 With over 10 years experience operating Australian esports events & tournaments.
ESL's core team has an unparalleled level of experience across all game titles & formats.
In 2009, ESL Australia founders JB Hewitt (Managing Director, ESL Australia) & Nick Vanzetti (Managing Director & Senior Vice President, ESL Asia-Pacific Japan) started the first Australian esports circuit under the "ACL Pro" brand. Since then, the ESL team has grown to operate esports mega-events not only in the country, but around the wider Asia-Pacific Japan region.
Looking for sponsorship opportunities? Contact us at contact.aus@eslgaming.com.
Be a part of the ESL Gaming family
You think you would be a great fit for the ESL family?
We are creating a world where everybody can be somebody. This reflects the founding story of our company, that is still very much in our DNA. We create esports leagues and tournaments that provide more opportunity for participation and progression than any other sport.
This is our passion. What about yours? At ESL Gaming we see ourselves as creators. We are competitors and collectively we develop esports worldwide. Join us on the journey of esports!
Be part of the unforgetable and start your career at ESL.
The company operates high-profile, branded international leagues and tournaments under the ESL Pro Tour.