PRESS RELEASE SUMMARY
– ESL One returns to Germany with ESL One Berlin powered by Intel®, with the final three days to be held at the Velodrom
– The 18 best teams in the world will face off from April 26 – May 7 to battle it out for a $500,000 prize pool, and 2,700 valuable DPC points for The International 12 qualification later this year
– Reigning The International champions Tundra Esports will attend ESL One Berlin, as well as Gaimin Gladiators, winners of the Lima Major and DreamLeague Season 19 earlier this year
– The ESL One Berlin Dota 2 Major will be streamed live from the Velodrom in Berlin, on the ESL Dota 2 Twitch and Youtube channels.
Monday, April 24 2023, Cologne/New York – ESL's Dota tournaments will soon return to Germany with the ESL One Berlin Dota 2 Major powered by Intel®. 18 of the top Dota 2 teams from around the world compete for a prize pool of $500,000 and aim to secure prized Dota Pro Circuit (DPC) points for The International 12 qualification. Fans will witness intense competition with the final matches to be held at the iconic Velodrom in the German capital.
Here is all you need to know about the ESL One Berlin Dota 2 Major:
Following an incredibly successful Major in Stockholm, Sweden, last year, ESL One is returning to the 2023 DPC calendar with the top 18 organisations worldwide competing for a $500,000 prize pool as well as valuable DPC points in the German capital this May. The 18 teams will be whittled down to eight for the live finals weekend of May 5 – 7. Because the ESL One Berlin Major is sold out, around 15,000 fans are expected to come over the weekend, with around 5,000 fans per day, to watch the top teams battle it out for the top spot at the Velodrom in Berlin.
Dota 2 teams from Eastern Europe, Western Europe, North America, South America, Southeast Asia, and China can look forward to a spectacular conclusion of the DPC Spring Tour 2022-2023.
Schedule and Format
Group Stage: April 26 – 30
Two groups of nine teams will see six teams qualify from each group. The games will be played in a single round-robin format and all matches in this stage will be best-of-two.
Playoffs: May 2 – 7
The top 12 teams from the Group Stage will face off in a double-elimination bracket, with all matches being played in a best-of-three format. Eight teams will progress to the finals at the Velodrom.
Finals: May 5 – 7
The Finals, in front of a live crowd at the sold-out Velodrom, will see the remaining eight teams battle in a best-of-three format to find the top two teams for the Grand Final, which will be played in a best-of-five format.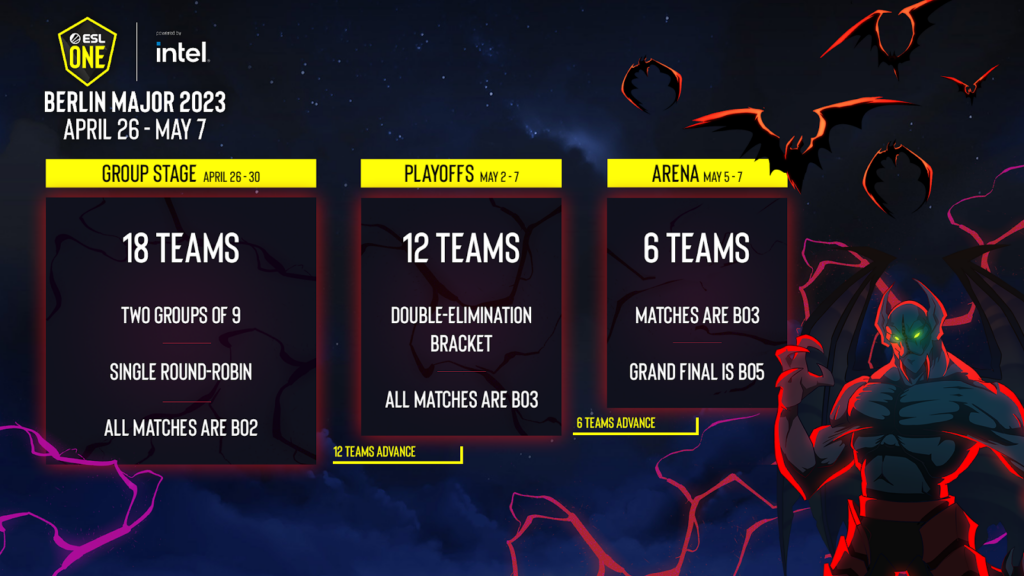 Teams involved:
| | | |
| --- | --- | --- |
| beastcoast | BetBoom | Evil Geniuses |
| Execration | Gaimin Gladiators | 9Pandas |
| Invictus Gaming | OG | PSG.LGD |
| Shopify Rebellion | TALON | Team Aster |
| Team Liquid | Team SMG | Team Spirit |
| TSM | Tundra Esports | Xtreme Gaming |
Commentators and Analysts
Hosts:

Neal "Tsunami" Khandheria
Jorien "Sheever" van der Heijden
Ted "PyrionFlax" Forsyth

Sideline Reporter

Jake "SirActionSlacks" Kanner
Commentators / Analysts

Mira "Ephey" Riad
Alexandra "Sheepsticked" Roberts
Andrew "Jenkins" Jenkins
Owen "ODPixel" Davies
Ioannis "Fogged" Loucas
Austin "Cap" Walsh
Avery "SVG" Silverman
Peter "ppd" Dager
Brian "BSJ" Canavan
Troels Lyngholt "syndereN" Nielsen
Shannon "SUNSfan" Scotten

Remote commentators / Analysts

Gareth "Gareth" Bateson
Dominik "Lacoste" Stipić
Lachlan "Ares" Williams
David "GoDz" Parker
Ricky "rkryptic" Peterson
John "johnxfire" Nathan Fernandez
Gabriel "Lyrical" Cruz
Clinton "Fear" Loomis
Trent "Trent" MacKenzie
Kevin "Purge" Godec
Tim "Dktruman" de Lange
Filipe "Astini" Astini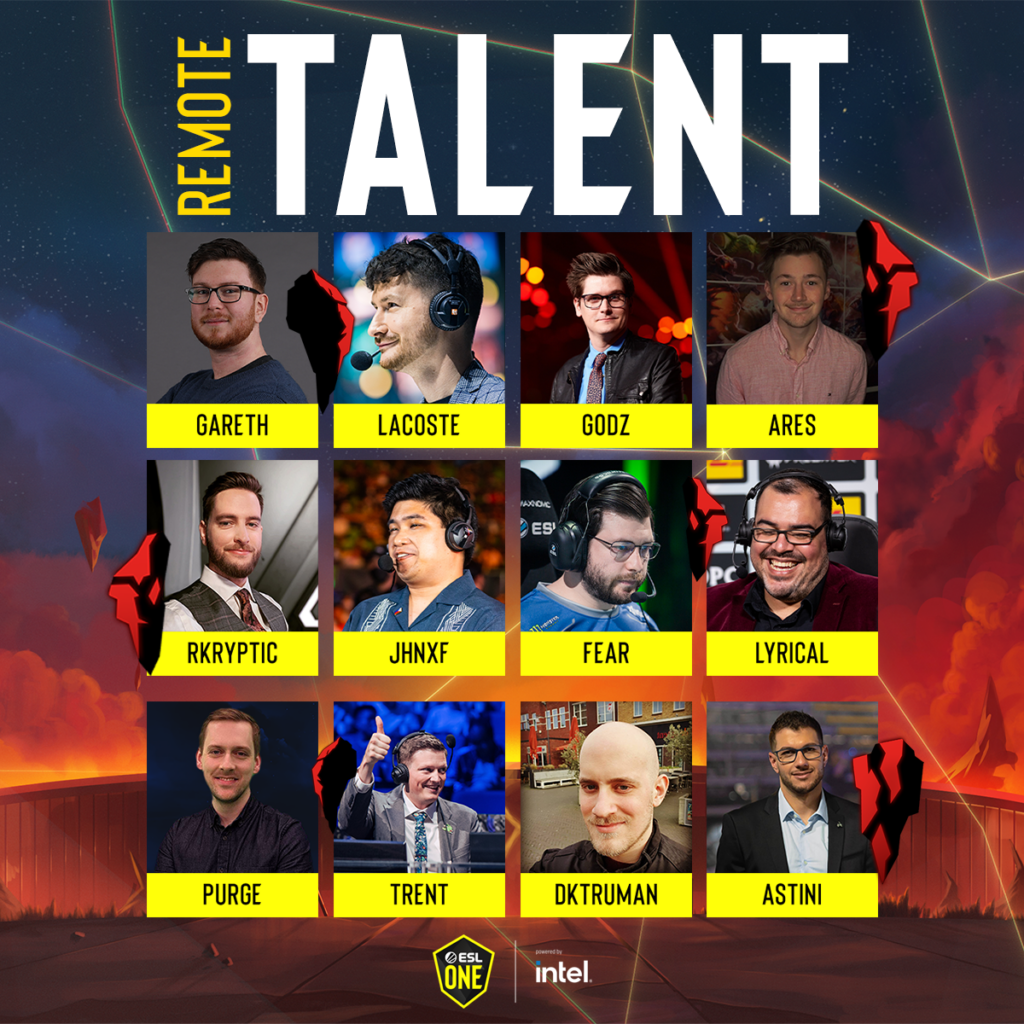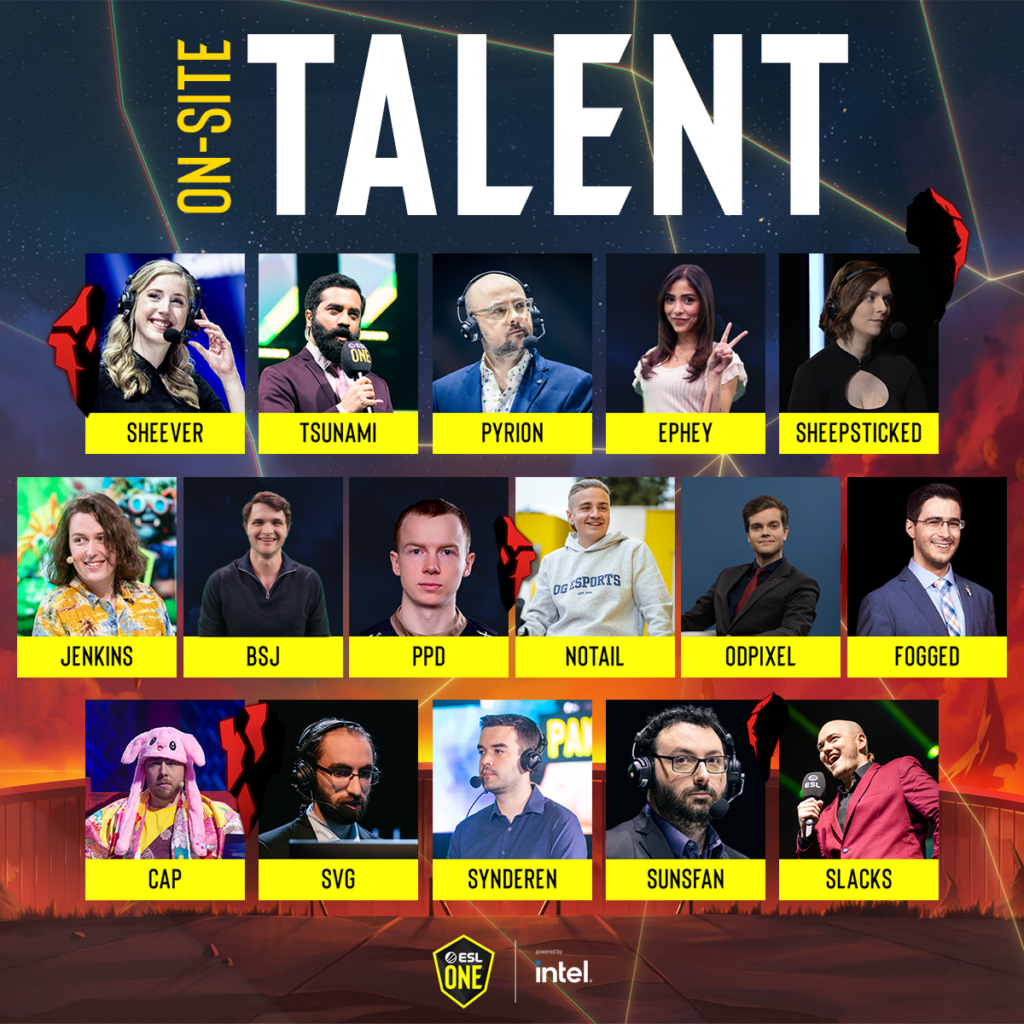 Prize Money:
| | |
| --- | --- |
| TOTAL | $500,000 |
| 1st | $200,000 |
| 2nd | $100,000 |
| 3rd | $75,000 |
| 4th | $50,000 |
| 5th – 6th | $25,000 |
| 7th – 8th | $12,500 |
In-Arena experience
ESL One Berlin will host numerous other on-site activities. There will be signing sessions for fans to get players' autographs, a balloon artist to sculpt your Dota heroes and an airbrush tattooist, so you can show your colors and support your team! Fans also have the opportunity to visit partner booths inside the arena – including DHL, Intel and Monster Energy – participate in several exciting activations, and win amazing prizes.

Broadcast details:
The ESL One Berlin Dota 2 Major will be streamed live from the Velodrom in Berlin, on the ESL Dota 2 Twitch and Youtube channels.
Assets for ESL One Berlin can be found in the press kit which is available here.
For more information about ESL One Berlin, check out the official website and follow ESL Dota 2 on Twitter, Instagram, and Facebook.
***
About ESL
ESL creates a world where everybody can be somebody. For more than two decades, we have been shaping the industry and leading esports and gaming innovation globally across the most popular video games, creating a comprehensive ecosystem with opportunities for players to go from zero to hero and for fans to witness the best stories esports has to offer. The ESL portfolio consists of high-profile products such as the ESL Pro Tour, Intel® Extreme Masters, the Snapdragon Pro Series, and many more, ranging from grassroots to global elite competitions. ESL is part of ESL FACEIT Group, the leading competitive games and esports company.
About ESL One
In ESL One, teams and players from all over the world compete in an esports tournament unlike any other. Featuring Dota 2, ESL One gives out hundreds of thousands in prize money every year. With events taking place in stadiums all over the world, it puts the players in front of enthusiastic audiences, cheering them on in their attempt to secure the one trophy and the glory that comes with it. www.esl-one.com