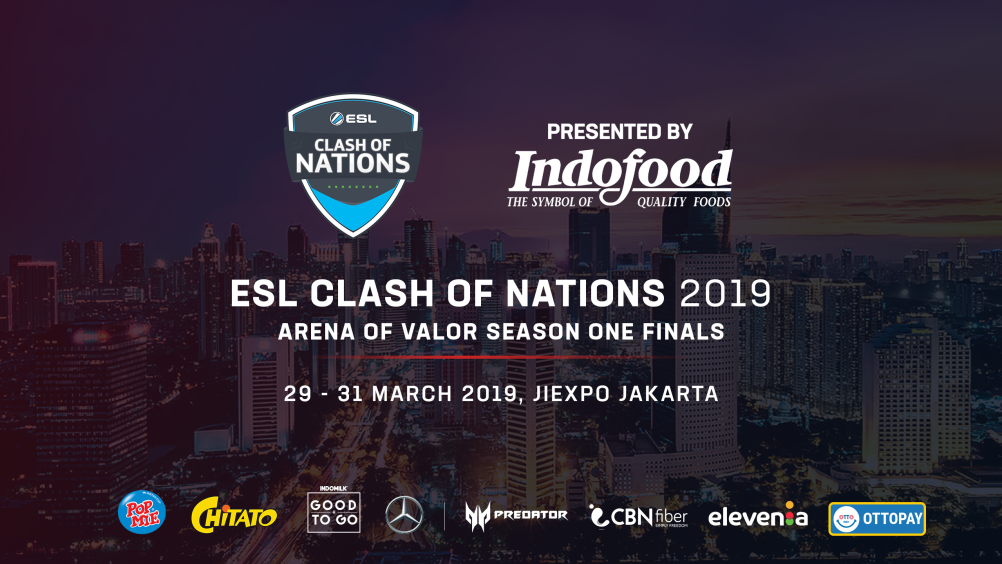 ESL, the world's largest esports company, is pleased to announce the debut of ESL Clash of Nations – Arena of Valor in Indonesia on March 29 – 31, 2019. Presented by Indofood, the ESL Clash of Nations is the next step to bringing top level esports to Indonesia and the Southeast Asia region. Six of the best Arena of Valor teams in Southeast Asia will compete in the Jakarta International Expo (JIE) over 3 days for a share of the US$50,000 prize pool and the coveted championship trophy of ESL's first ever Clash of Nations in the SEA region.

The ESL Indonesia Championship for Arena of Valor and Dota 2 will also be happening on the morning of the 29th and 30th March respectively. The top 2 teams for each title will compete in the Grand Finals, where the respective winners will be crowned the best team in Indonesia in front of the local fans. Together with the ESL Clash of Nations, a total prize pool of US$150,000 will be given out during the weekend.

The top 2 Arena of Valor teams from the ESL Indonesia Championship will also qualify themselves to the ESL Clash of Nations, where they will be joined by 4 other teams from Thailand, Vietnam, Philippines and Malaysia/Singapore. Qualifiers for these countries will be held online on the 23rd & 24th Feb with the following breakdown:
Thailand: 1 slot
Vietnam: 1 slot
Philippines: 1 slot
Malaysia / Singapore: 1 slot
Teams can sign-up to the respective qualifiers here.

"Clash of Nations marks an exciting time for ESL in Indonesia. With the support shown for our National Championships, we're thrilled to be able to bring a world-class event to local fans," said Nick Vanzetti, Senior Vice President of ESL Asia-Pacific Japan. "Our goal is to create opportunities to compete at every level, and the Clash of Nations is the pinnacle of that journey for many competitors."

"We are proud to be trusted [by ESL] to work together in bringing ESL Clash of Nations 2019 – Arena of Valor, the first and biggest top level esports competition in Indonesia and Southeast Asia. To us, esports is a division of electronic sports that is adored by young generations and we need to push its growth," said Axton Salim, Director of Indofood. "Through our three brands, Pop Mie, Chitato and Indomilk Good To Go, Indofood will contribute in the successful execution of the ESL Clash of Nation 2019. We hope that this event will provide opportunities to Indonesian esports players to compete and mark their achievements at the international level."

Besides the tournament, the event will feature an array of exciting side activities located around the EXPO hall, including opportunities for fans to interact with their favourite teams and pro players. Ticket sales for the ESL Indonesia Championship and the ESL Clash of Nations – Arena of Valor is now live, and prices range from 30,000 Rp for Single Day tickets up to 150,000 Rp for Premium 3-days tickets. The official ticketing partner is Elevenia and further details on each available ticket type can be found on their website here.

29th March – ESL Indonesia Championship (AOV) Finals + ESL Clash of Nations (AoV) Day 1
30th March – ESL Indonesia Championship (Dota 2) Finals + ESL Clash of Nations (AoV) Day 2
31st March – ESL Clash of Nations (AoV) Day 3
Matches will be broadcasted live from the JIEXPO on the ESL Indonesia official YouTube channel across all 3 days. Until then, be sure to follow ESL Asia on Facebook, Twitter and Instagram to receive the latest updates on the ESL Clash of Nations. For more information about the event, visit our official website.