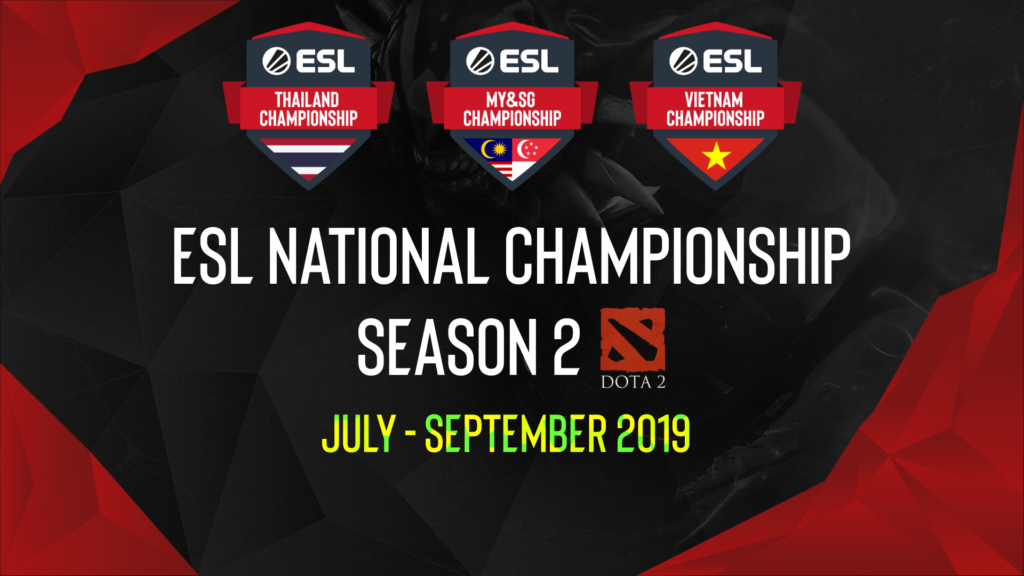 ESL Asia is proud to announce the continuation of the ESL National Championship for Dota 2 in Thailand, Vietnam & Malaysia/Singapore. Season 2 will begin in July where 8 of the best Dota 2 teams in the respective regions will compete over a period of 3 months for a total prize pool of USD36,000.

SEASON 2 & RELEGATION PHASE
The 2nd season will directly invite the top 4 teams from the 1st season, which is currently ongoing. The bottom 4 teams from season 1 will have to go through a relegation phase, where they will be joined by 4 teams from the open qualifiers. The 8 teams in the relegation phase will compete against each other in a best-of-3 match on the 15th-16th June for Thailand & Vietnam and on the 22nd-23rd June for Malaysia/Singapore. The 4 winners will advance to the 2nd season of their respective ESL National Championship series starting this July.

S1 #5 vs Open Qualifier #4 Winner
S1 #6 vs Open Qualifier #3 Winner
S1 #7 vs Open Qualifier #2 Winner
S1 #8 vs Open Qualifier #1 Winner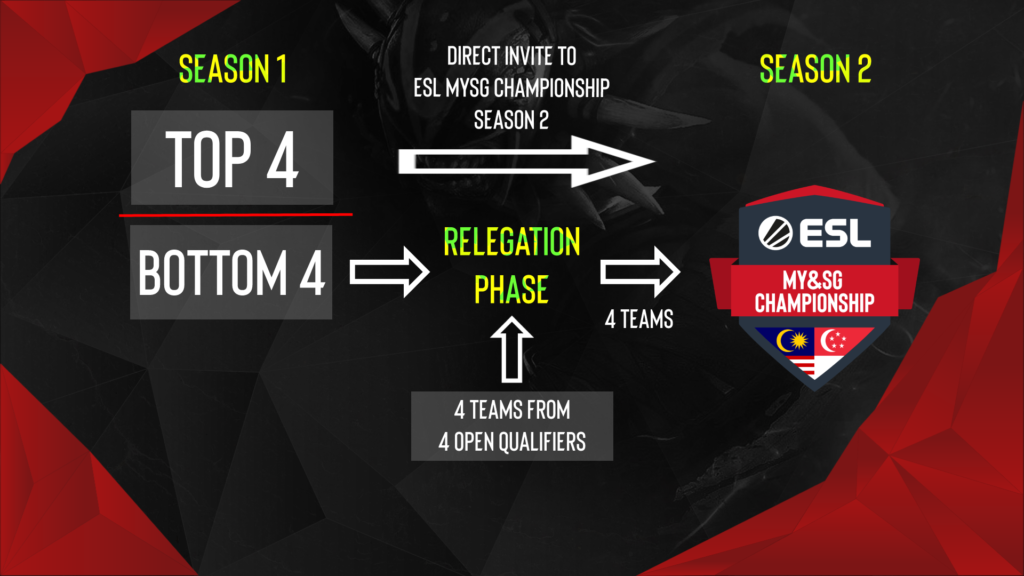 OPEN QUALIFIERS
There will be a total of 4 open qualifiers for each region where only the top team of each qualifier will advance to the relegation phase. The open qualifiers is open to all teams as long as they fulfil the criteria of having at least 3 out of 5 players from the region they are playing in. Also, teams can sign up for all 4 qualifiers with the dates as follows:

REGISTRATION
MYSG

Qualifier 1: 30th May (Thu)
Qualifier 2: 31st May (Fri)
Qualifier 3: 14th Jun (Fri)
Qualifier 4: 15th Jun (Sat)

Thailand
Qualifier 1: 30th May (Thu)
Qualifier 2: 31st May (Fri)
Qualifier 3: 6th Jun (Thu)
Qualifier 4: 7th Jun (Fri)
Vietnam
Qualifier 1: 30th May (Thu)
Qualifier 2: 31st May (Fri)
Qualifier 3: 6th Jun (Thu)
Qualifier 4: 7th Jun (Fri)
REGULAR SEASON
Commencing in July 2019, the league will see eight teams in total compete over seven match weeks in the regular season. Teams are required to play two best-of-1s per week – with all matches happening on Friday and Saturday at 7 PM of the respective time zones.

Dates:
05/06 of July 2019;
12/13 of July 2019;
19/20 of July 2019;
26/27 of July 2019;
(Mid-season break for The International 2019)
06/07 of September 2019;
13/14 of September 2019;
20/21 of September 2019
SEASON PLAYOFFS
The top 4 teams of each league will advance to a single-elimination playoffs to determine the best team in the region!

Dates:
28th September 2019: 2 x Best-of-3 Semi Finals (#1 vs #4; #2 vs #3);
29th September 2019: 1 x Best-of-5 Grand Finals
Fans can watch the matches on the respective Facebook & YouTube pages listed below. Also, be sure to check out the social media channels of the respective ESL local pages for more information.

ESL Asia: Facebook | Twitter | Instagram | YouTube | Official Website
ESL Thailand: Facebook | Instagram | YouTube | Twitch | Official Website
ESL Vietnam: Facebook | Instagram | YouTube | Official Website