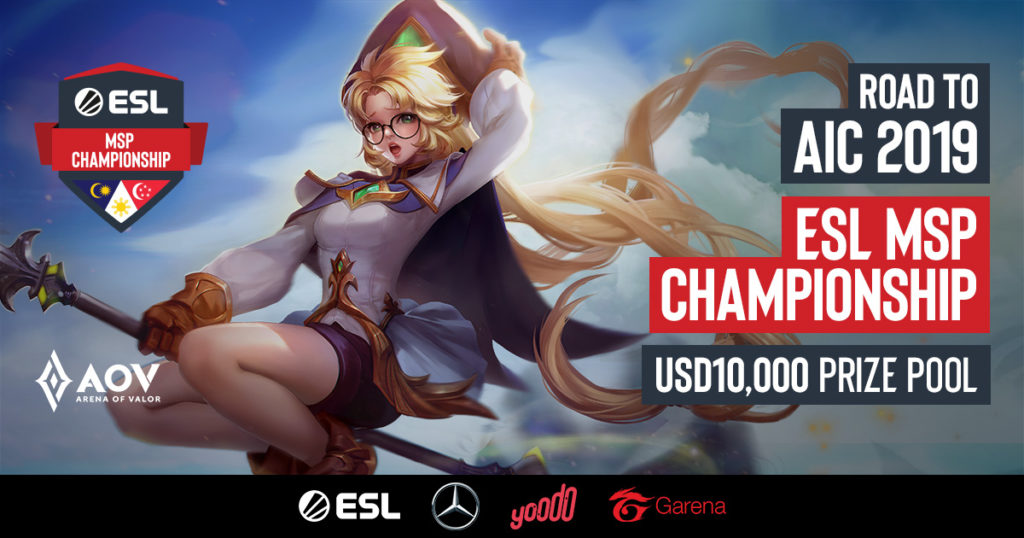 ESL, the world's largest esports company, is proud to announce the debut of the ESL MSP Championship for Arena of Valor happening across August and September. Supported by Garena and sponsored by Mercedes-Benz & Yoodo, the ESL MSP Championship will feature 8 of the best AOV teams in Malaysia, Singapore and the Philippines where they will compete for a total prize pool of US$10,000 as well as the honour of being the MSP representative at Arena of Valor International Championship (AIC) 2019.

The ESL MSP Championship will have two invited teams and six teams that have to earn their spots through open qualifiers. The two invited teams are the finalists of last season's Valor Cup – M8HEXA from Malaysia and Liyab Esports from the Philippines. There will be a total of 3 open qualifiers where the top 2 teams of each qualifier will advance directly to the ESL MSP Championship. The 3 open qualifiers will be happening on the 13th, 17th & 20th August respectively and teams can sign up here.

The tournament will feature an online group stage with a brand new format – 2 groups of 4 teams GSL format where the top 2 teams from each group will advance to the playoffs. The playoffs will be played over 2 days with a best-of-5 double elimination format and a best-of-7 grand finals. The new format aims at providing a more competitive tournament for the teams as well as more exciting matches for the fans and viewers.

"We have brought our National Championship product into Southeast Asia last year and we are excited to expand the program into more esports titles and countries," said Nick Vanzetti, Senior Vice President of ESL Asia-Pacific Japan. "We are pleased to be working with Garena on the opportunity to host the ESL MSP Championship as part of their ecosystem and we will continue to align our goals in shaping a sustainable ecosystem for Arena of Valor in the MSP region."

"Garena AOV is proud to be working again with ESL on developing esports scene in Southeast Asia. Hopefully, from the ESL MSP Championship we'll see the birth of talented players who will win on the international stage," said Marshal Bagus Nugroho, AOV Producer for Indonesia and MSP Regions.

The 4 group stage matches will be happening on Wednesdays and Sundays between 28th August & 8th September and the playoffs on the 21st – 22nd September. All matches will be broadcasted live on the official ESL Asia Facebook and YouTube channel. Also, be sure to follow ESL Asia on Facebook, Twitter and Instagram for the latest updates.
###
ESL is the world's largest esports company. Founded in 2000, ESL has been shaping the industry across the most popular video games with numerous online and offline competitions. It operates high profile, branded international leagues and tournaments such as ESL One, Intel® Extreme Masters, ESL Pro League and other top tier stadium-size events, as well as ESL National Championships, grassroots amateur cups and matchmaking systems, defining the path from zero to hero as short as possible. With offices all over the world, ESL is leading esports forward on a global scale. ESL is a part of MTG, the leading international digital entertainment group. eslfaceitgroup.com

About Arena of Valor
Arena of Valor is a MOBA (Multiplayer Online Battle Arena) mobile game developed by Tencent and published by Garena. This game was released in Indonesia for Android and iOS users on June 2017 under the name Mobile Arena. Arena of Valor has been released in several other countries; Taiwan, Thailand, Vietnam, South Korea, Turkey and Europe.

About Garena
Garena is the biggest internet platform and mobile company with fast growth in southeast asia. Started in 2009 with its main office in Singapore, Garena provides services to millions of digital content users in over than 10 Asian countries and more. In Indonesia, Garena published several online games which are EA SPORTS™ FIFA Online 3, League of Legends, Arena of Valor, Free Fire, Contra: Return dan Speed Drifters.