Dare Iced Coffee ranks up, becoming the first iced coffee sponsor for the ESL AU & NZ Championship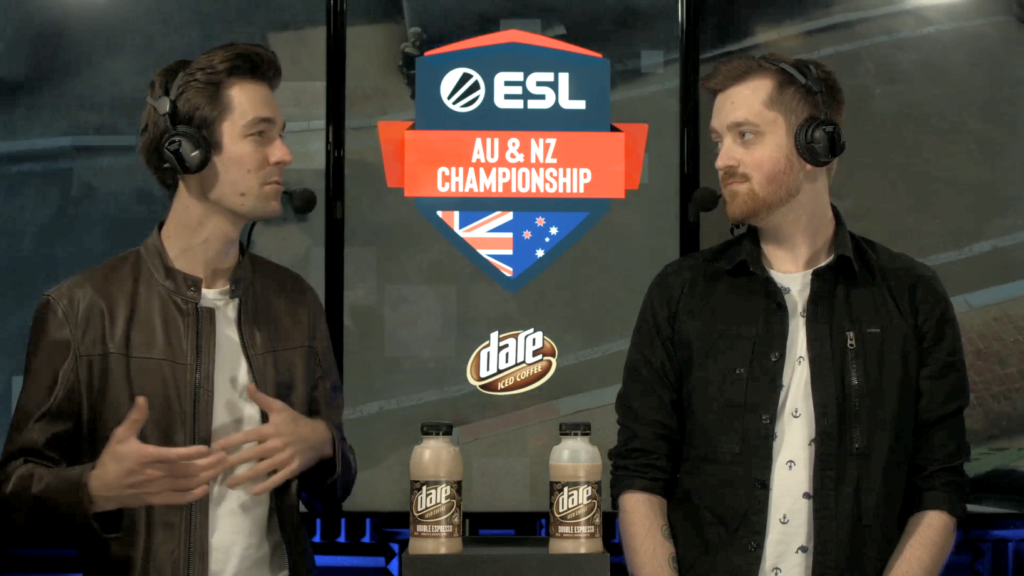 Sydney, Australia – 2 August 2019 – Today ESL Australia, local division of the world's largest esports company, and Dare Iced Coffee, Australia's leading Iced Coffee, have announced a partnership to bring Dare on board as official drinks partner of the ESL AU & NZ Championship Season 2 2019.
Dare's activation in the program propels the brand to the forefront of Australia & New Zealand's premium esports league, and will see activations span across multiple esports-focused channels including Twitch.tv, Twitter, Facebook & Instagram as part of a broad campaign. The partnership has been spearheaded by Publicis Groupe's recently-formed, Publicis Sport and Entertainment Starcom as the key media lead and Publicis Media Content
"Lion Dairy and Drinks had challenged us to evolve our existing esports strategy, delivering new drinkers for Dare Iced Coffee " said Chris Stanley, Investment Director at Starcom. "Working closely with the team at Publicis Sport & Entertainment ensured we identified the right gaming and esports opportunities to deliver the scale, engagement and credibility required to unlock these new-drinkers. Further enhanced through an approach anchored to a simple sponsorship philosophy; How can Dare Iced Coffee add value to the overall experience of gamers, streamers and live viewers. Dare Iced Coffee's partnership with ESL and sponsorship of the AU/NZ championships is a pivotal element of this strategy and further demonstration Dare's genuine support for the space"
"Our work with Lion Dairy & Drinks is a true representation of the Publicis One model in action; Groupe brands working seamlessly together to create business-focussed solutions for our clients" Said Ashley O'Rourke, Director of Publicis Sport & Entertainment
The Championship is Australia's most prestigious league that showcases the pathway from the house to the biggest stages in Australia through major event qualifications, both domestically and abroad. It sees over 32 teams competing across three of the largest esports titles: CS:GO, Dota 2, and PlayerUnknown's Battlegrounds. They compete across three online seasons, and two live events for their share of $60,000AUD.
"We're excited to welcome a new brand like Dare Iced Coffee to the space, and look forward to showcasing ANZ's top esports talent alongside the leading iced coffee around." said Michael Evidis, Product Manager ESL. "Mental acuity is crucial for success as an esports pro, which makes Dare Iced Coffee a natural fit for esports. The brands backing of player MVP awards and showcasing the pinnacle of skillful plays across the season are fantastic ways to authentically engage with our audience."
Anne Dowsley, Marketing Manager for Dare Iced Coffee at Lion Dairy & Drinks, added that she was eager to tap into the growth potential of esports in Australia.
"Globally we're seeing many other leading brands investing in esports, but locally here in Australia, it's still a relatively new prospect. We're excited to be able to spearhead the support and growth of esports in Australia. Dare Iced Coffee sees it as a way to reach a highly relevant and engaged audience in a way that is entirely aligned to the brand proposition of – A Dare Fix'll Fix It, helping esports players and fans stay on their A-Game" said Dowsley.
The championship runs from July to September, is broadcast on Twitch.tv and culminates in a live finals at Oz Comic Con Sydney.
ABOUT ESL:
ESL, a part of the international digital entertainment group MTG, is the world's largest esports company, leading the industry across the most popular video games with numerous online and offline competitions. It operates high profile, branded international and national leagues and tournaments such as the Intel® Extreme Masters, ESL One, ESL National Championships and other top tier stadium-size events, as well as grassroots amateur cups, leagues and matchmaking systems. ESL covers a broad field of services in gaming technology, event management, advertising and television production, fully catering to the needs of the esports ecosystem. With offices in North America, Germany, Russia, France, Poland, Spain, China, and partners in many other countries, it has a truly global footprint (www.eslgaming.com).