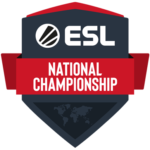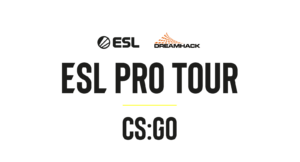 ESL's European National Championship winners will face a clear path from Challengers up to the Masters via LAN Qualifier and direct slots to DreamHack Open thanks to improved model
Cologne – 12 Dec, 2019 – ESL, the world's largest esports company, today reveals the new structure of ESL National Championships connecting directly to ESL Pro Tour Masters level tournaments. ESL Pro European Championship (EPEC) now continues further to LAN Qualifier paving the road to Masters Championships. Envisioning ESL's brand purpose "from zero to hero", National champions will also get a Direct Slot to DreamHack Open tournaments serving as a door opener to the Masters level of ESL CS:GO Pro Tour.
The Challenger level in the ESL Pro Tour is represented by the ESL National Championships. The European National champions will still have the possibility to join the ESL Pro League, the longest running professional league for CS:GO, via MDL Relegation leading to MountainDewLeague.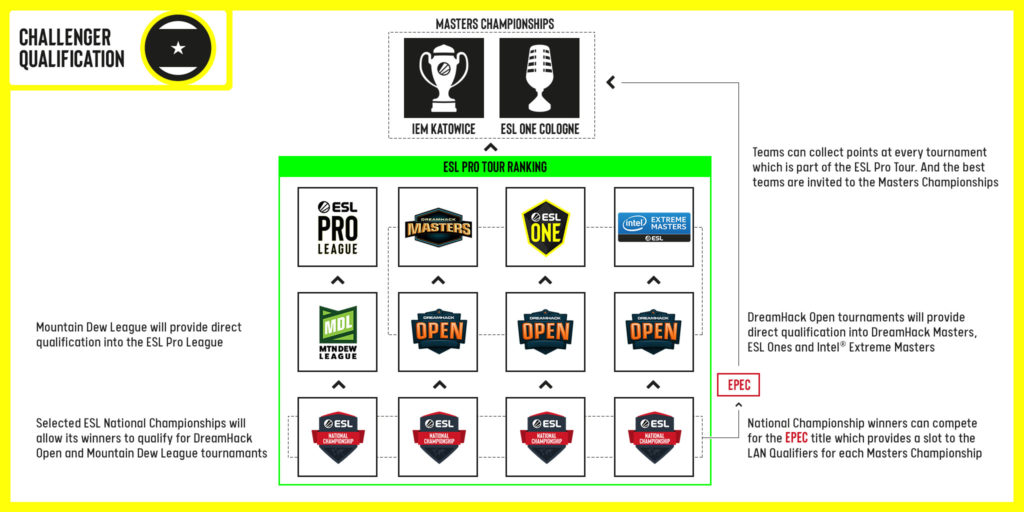 The innovation in the ESL Pro Tour ecosystem lies in the continuation of the ESL Pro European Championship (EPEC). Whereas the crown used to be the highest honour for national teams in Europe and thus the end of the chain, the winning EPEC team will now be invited directly to the LAN Qualifier. EPEC now becomes the door opener, giving champions on a national level the opportunity to enter the highest of all tournaments, Masters Championships competitions like ESL One Cologne and IEM Katowice from 2020 onwards. Thus national teams will be guaranteed the direct way to international mega tournaments right in the sense of ESL's brand purpose "from zero to hero".
"Ever since we introduced the ESL Pro Tour CS:GO, we've been working hard to clearly define how players can climb to the very top. We knew we had to create multiple opportunities throughout the year for players to do so and we think that our ecosystem provides now various ways in abundance" says Michal Blicharz, VP of Pro Gaming at ESL. The National Champions from Germany and Poland will get a direct spot in the LAN Qualifier of their respective Masters Championships. In case of the winning EPEC team being from one of these two countries, the runner-up will be invited to the LAN Qualifier and thus to the "Road to Cologne" or "Road to Katowice". 
Another newly structured path for national champions to make it into the international elite of the strategy game CS:GO, is to enter DreamHack tournaments. ESL and DreamHack created direct slots to DreamHack Open events. Winning DreamHack Open events means a direct qualification into an ESL Pro Tour Masters event such as DreamHack Masters, ESL One and Intel® Extreme Masters.
German and British Champions of 2019 get a direct slot to DreamHack Open, taking place in Leipzig and Anaheim in 2020. Further NCs on a European level, such as the ESL NCs in Spain and Poland, will acquire direct slots to further DreamHack Open tournaments of 2020.  
"We're excited about the pathway that is now paved for the aspiring stars of tomorrow, with ESL National Championships connecting directly to DreamHack Open," says DreamHack Chief Product Officer Mike Van Driel. "DreamHack Open has over the years been a proving ground to teams and players who've later won Major Championships. It's a key component in the ecosystem of CS:GO and even more so of the ESL Pro Tour."
"The general goal is to connect all levels at all open ends, all tournaments in various ways. National teams should be able to make a clear way to the top without getting stones in the way. The ESL Pro Tour embodies exactly that: In order to compete in elite CS:GO gameplay at a Masters level, the way leads teams either via the DreamHack journey or via LAN Qualifiers slots paving the way to ESL and DreamHack mega tournaments", summarizes Ana Oliveras, Head of National Championships. 
The overall structure for National Championships on a European level has been worked out in alignment with DreamHack. NCs on a global level will also see a restructured system in 2020, in order to provide an overall comprehensive global strategy following ESL's brand purpose "Where everybody can be somebody."
For more information, please visit the  official ESL Pro Tour website and follow ESL CS:GO on Twitter and Facebook.