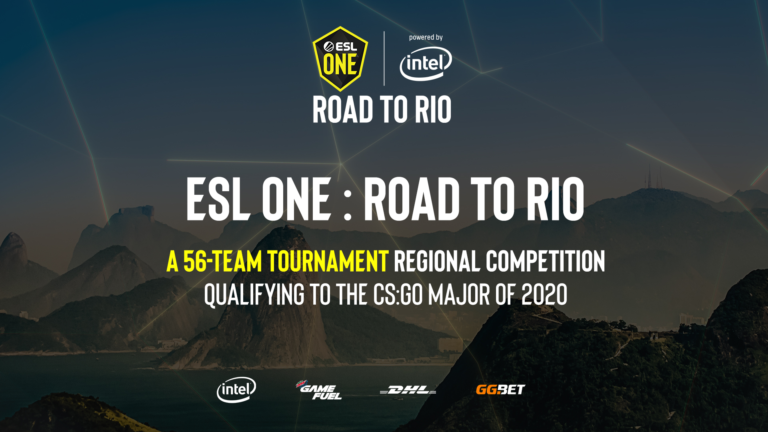 ESL and Valve announce four week long 56-team tournament qualifying teams to the November CS:GO Major in Rio
Cologne – 2nd, April – ESL, the world's largest esports company, and Valve Corporation will launch ESL One: Road to Rio powered by Intel® as the first of multiple online regional competitions that will act as the official qualification method to ESL's CS:GO Major in November 2020.
ESL One: Road to Rio will feature 56 of the world's best teams across divisions in Europe, CIS (Commonwealth of Independent States), North America, South America, Oceania and Asia. The competition will span four weeks between April 22nd and May 17th and will feature $255,000 in prize money.
The divisions will be made up from teams that were qualified to compete in the May CS:GO Major (Legends and Returning Challengers) or were recently qualified to the Regional Minors. Those teams will be competing for ranking points that will establish a qualification order for the Rio CS:GO Major in November. Valve intends to nominate more tournaments in 2020 to provide additional opportunities to win qualification points. Those will be open to all teams, including those that aren't competing in ESL One: Road to Rio.
The list of confirmed teams for respective regional divisions can be found here.
"We believe this tournament is the best response to the gap that rescheduling the CS:GO Major to November has created," says Michal Blicharz, VP Pro Gaming at ESL. "ESL One: Road to Rio will be a spectacle for the whole world to enjoy."
For further information, please visit the official tournament website. Make sure to follow @ESLCS on Twitter and Facebook to get the latest updates on participants and content around the Major!
###
About ESL
ESL is the world's largest esports company. Founded in 2000, ESL has been shaping the industry across the most popular video games with numerous online and offline esports competitions. The company operates high profile, branded international leagues and tournaments under the ESL Pro Tour including ESL One, Intel® Extreme Masters, ESL Pro League, and other premier stadium-size tournaments, to more clearly define the path from zero to hero. ESL also produces the ESL National Championships, grassroots amateur cups, and matchmaking systems, creating a world where everybody can be somebody. With offices all over the world, ESL is leading esports innovation on a global scale through the combination of global ESL competitions, amateur leagues, publisher activations, and more. ESL is a part of MTG, the leading international digital entertainment group. eslfaceitgroup.com
—