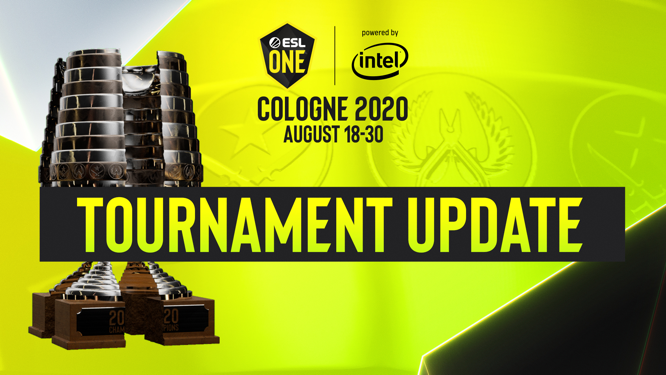 The tournament will now feature four divisions (North America, Europe, Asia and Oceania), with teams competing for a share of the US$500,000 prize
The decision to facilitate the tournament online comes after months of extensive deliberations in light of the global pandemic
Cologne, July 16th, 2020: ESL, the world's largest esports company, today announced that the much-anticipated ESL One Cologne 2020 powered by Intel® will transition into an online competition. Running from August 18th – 30th, the tournament will now feature four divisions – North America, Europe, Asia and Oceania – with teams competing for a share of the US$500,000 prize.
Each of the teams competing were selected based on a regionalised version of the original ESL One Cologne qualification rule set within the ESL Pro Tour ranking, ESL Pro Tour Challenger competitions and the ESL World Ranking. This means fans will be treated to big name appearances from some of the world's top teams like Fnatic, FaZe Clan, Team Liquid, Team Vitality, Renegades and many more.
The new format means that four teams will be crowned 'champions' and, while the tournament will not count as an ESL Pro Tour Masters Championship event, it will provide the highest ESL Pro Tour points value for an online tournament. Teams will compete for a share of $500,000 in prize money, with the remaining $500,000 from the initial US$1million ESL One Cologne prize pot being redistributed equally to Intel® Extreme Masters Katowice and ESL One Cologne in 2021.
"ESL One Cologne is one of the truly special events in the esports calendar, and one that players and fans around the world cherish" said Michal "Carmac" Blicharz, VP of Pro Gaming at ESL. "The crew at ESL wanted nothing more than to have players on-site to compete, after an extended period of research and deliberations, we came to the conclusion that the time is not yet right for an in-person competition. Until that day comes, we want to deliver the best online experience we can."
More information can be found on the official website of ESL One Cologne Online. Please check out Twitter,Facebook and Instagram for the latest news on ESL One Cologne Online.
###
About ESL
ESL is the world's largest esports company. Founded in 2000, ESL has been shaping the industry across the most popular video games with numerous online and offline esports competitions. The company operates high profile, branded international leagues and tournaments under the ESL Pro Tour including ESL One, Intel® Extreme Masters, ESL Pro League, and other premier stadium-size tournaments, to more clearly define the path from zero to hero. ESL also produces the ESL National Championships, grassroots amateur cups, and matchmaking systems, creating a world where everybody can be somebody. With offices all over the world, ESL is leading esports innovation on a global scale through the combination of global ESL competitions, amateur leagues, publisher activations, and more. ESL is a part of MTG, the leading international digital entertainment group. eslfaceitgroup.com