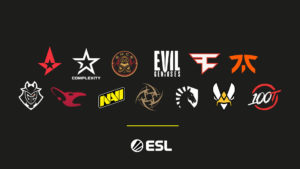 [2nd of September], London: ESL and 13 of the leading CS:GO teams have appointed Alexander Inglot as the first Commissioner of the Pro League, who has been brought on board to drive the creation of the new collaborative structure, optimize the governance, build the brand and to explore new revenue streams that can deliver further income for these teams, their players and ESL. He will be joined by Hans Jagnow, who will support him as the VP Operations.
At the start of 2020, these 13 teams entered into an agreement with ESL (known as the "Louvre Agreement") to collaborate on setting up a new structure that would align all their interests, stabilize the ecosystem and bring increased sustainability to the stakeholders involved. As Commissioner, Alexander Inglot will focus on the Pro League as well as a range of new collaborative business opportunities, while also ensuring that the new joint approach benefits ESL's other tentpole events such as ESL One, and the Intel Extreme Masters Series.
Alexander Inglot started his career as a corporate lawyer in London's City before developing a highly-regarded reputation in the sports industry, focusing on international relations, communications and PR across a range of rights holders. Most recently, he has been and remains a director on the ATP Board, working on the player side of the structure to oversee leadership, structural and brand developments among other things.
Hans Jagnow joins the new team fresh from his time as President of the German Esports Federation and initiator of the European Federation. Previously to his new role, he has worked in Berlin state politics for 7 years as a legal expert and has been involved with shaping digital and data policies.
Speaking about his new role, Inglot said: "I have followed CS:GO since 2015 and have witnessed some of the electric atmospheres at events, dating back to ESL One Cologne 2016. The opportunity to take on a key leadership role in this already exhilarating space, surrounded by the best teams in the world and ESL that are both knowledgeable and enthused about what can be: it's an opportunity I could not pass up on."

"The ambition is to achieve an even stronger position in a growing, global billion-dollar business by creating new revenue streams, focusing upon the significant potential in existing media rights and developing new media products for the millions of fans. I will have much to learn, but I am confident that with my experience to date, my respect for the ecosystem and Hans as my right hand, we will combine well to give those already invested in CS:GO and all those who are just about to come onboard a renewed sense of anticipation. "
Ralf Reichert, Co-CEO of ESL added: "Alex went through a pretty rigorous process with us and the teams. ESL has come a long way since we started, and we are proud to have delivered a range of premium tournaments and leagues for many years. But what the Louvre Agreement envisions is a step-change for the ecosystem and all those who love it and live it. The responsibility is now on Alex and Hans to work with the Louvre Agreement Board and Members to realize that vision and we are as excited as anyone to see what the future holds".
Anders Horsholt, CEO of Louvre Agreement Founding Team Member Astralis said: "These last few months have been torrid for CS:GO events, teams, players and fans. We do, however, see a strong and growing interest from fans and we know that on the other side of this COVID era so to speak, there is a tremendous opportunity to refresh the way we approach Counter-Strike. The Louvre Agreement envisions a world where teams have ownership and a real say, and players get healthy return for their success and continued achievements in the game. The teams are confident this new Commissioner's Office can take the Louvre Agreement, convert it into a living and breathing collaboration, leveraging that into something that will make all of esports and the wider sport and entertainment world take note: entertainment wise and commercially."
###
ESL is the world's largest esports company. Founded in 2000, ESL has been shaping the industry across the most popular video games with numerous online and offline esports competitions. The company operates high profile, branded international leagues and tournaments under the ESL Pro Tour including ESL One, Intel® Extreme Masters, ESL Pro League, and other premier stadium-size tournaments, to more clearly define the path from zero to hero. ESL also produces the ESL National Championships, grassroots amateur cups, and matchmaking systems, creating a world where everybody can be somebody. With offices all over the world, ESL is leading esports innovation on a global scale through the combination of global ESL competitions, amateur leagues, publisher activations, and more. ESL is a part of MTG, the leading international digital entertainment group. eslfaceitgroup.com


Pro League – Pro League is the world's longest-running professional league for Counter-Strike: Global Offensive, featuring the best teams from Europe, North America, South America and the Asia-Pacific region. Broadcast on various platforms and staged in major venues across the globe, Pro League hosts the most widely-watched CS:GO competitions. Pro League was established in 2015 and had a total prize pool of $1,5 million US dollars for 2019. Following 2020's historic Louvre Agreement, the Pro League is now jointly owned by 13 of the leading CS:GO teams and ESL. (www.en.pro.eslgaming.com/csgo/proleague).