Brand refresh of the iconic regional tournament series to increase the brand equity of ESL Gaming's esports ecosystem
Cologne/New York/Sydney – ESL Gaming, a part of ESL FACEIT Group, is introducing a new visual identity for the ESL National Championship (ENC), the most premium local esports tournament series in its region.
The state-of-the-art visual identity of the competition series is set to increase the brand equity of ESL Gaming and its ESL National Championship following the company's master brand refresh in 2019. Ultimately, the main idea behind sharing a common visual style is to increase equality within the brand, highlight the company's values and support the strategy to continue leading the esports industry. With the Intel® Extreme Masters (IEM) brand receiving a new, refreshed look earlier this year, the time has now come for ENC to follow in its footsteps.
The ESL National Championship is one of the longest-running local esports competitions hosting tournaments in several game titles. The first ever national tournament started in Germany in 2002 as ESL Pro Series, which was renamed to the ESL Meisterschaft in 2015. The competition series also meant a new era for the nine different regions that followed right after: Australia and New Zealand, Benelux, France, Italy, Poland, Spain, Switzerland, Turkey, and the United Kingdom. The ENC shares the common element of being that region's premier tournament for amateurs, semi-professionals, and professionals, and each region features its own unique competitions relevant in that respective region.
"For over 6 years, the ESL ANZ Champs – Delivered by Menulog has allowed Australian & New Zealand players to pursue their goals of professional gaming, and we're excited to take the next step on that journey. ANZ players are always striving to represent the region on the global esports stage, and ANZ Champs has been one pillar of development for some of the best teams that ANZ esports has ever known. Renegades, ORDER, Grayhound, The Chiefs – are just some of the globally-recognisable teams that have competed in the ESL ANZ Champs who have also made their mark against the world's best." said Ben Green, Senior Product Manager at ESL Gaming. "With this new visual identity, we're ready to move forward and cement ANZ's position as a force in global esports, and welcome new players onto our zero-to-hero pathways in the ESL ANZ Champs."
For the most part, the new ESL National Championship visual identity refresh consists of the updated logo and a dedicated camouflage pattern. New graphic elements allow the ENC to be more coherent with the ESL Gaming brand leaving enough space for each region to adjust the design to their local symbols. This creates a perfect fusion between autonomy within the local competition's visual identity and enhancement of the brand equity of ESL Gaming.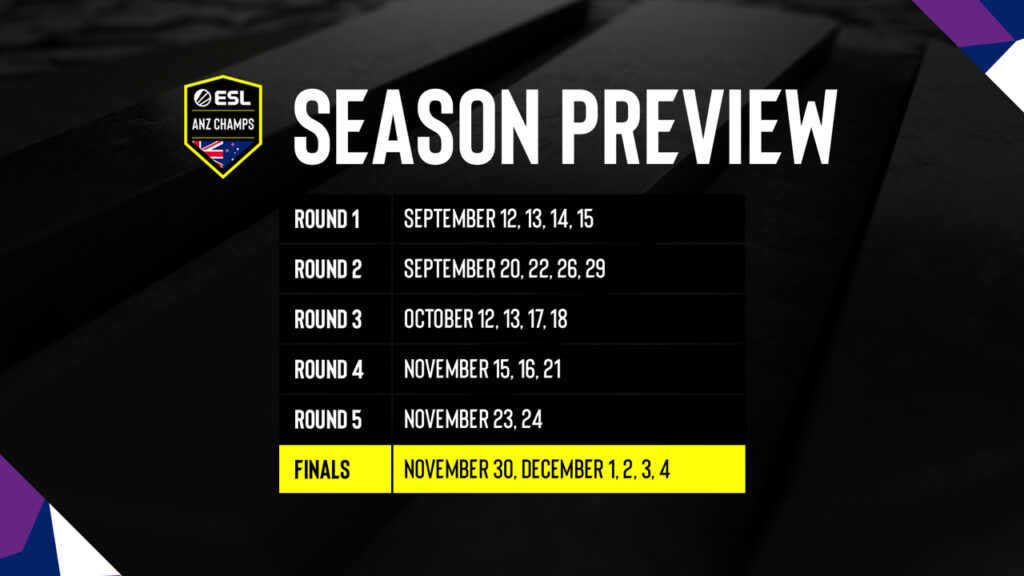 ESL ANZ Champs – Delivered by Menulog Schedule
(CS:GO – Season 2 2022)
ANZ Champs Division
Swiss
Round 1: 12th, 13th, 14th, 15th September
Round 2: 20th, 22nd, 26th, 29th September
Round 3: 12th, 13th, 17th, 18th October
Round 4: 16th, 17th, 21st November
Round 5: 23rd, 24th November
Finals
Day 1: 30th November
Day 2: 1st December
Day 3: 2nd December
Day 4: 3rd December
Day 5: 4th December
ANZ Main Division
Swiss
Round 1: 14th, 15th, 20th, 22st September
Round 2: 26th, 27th, 28th, 29th September
Round 3: 12th, 13th, 17th, 18th October
Round 4: 20th, 24th, 25th October
Round 5: 27th, 31st October
Finals
2nd, 3rd, 7th, 8th, 10th, 15th, 17th, 18th, 22nd November
For more information on the ESL ANZ Champs – Delivered by Menulog, please visit https://pro.eslgaming.com/anz
For more general information visit about.eslgaming.com, or follow ESL Australia on Twitter, Facebook, Instagram, and LinkedIn.
Assets, including new logos can be found here: https://drive.google.com/drive/u/1/folders/1YSSTlRuIb4Xr8Wlat-S0YNyVzqo5SDSZ
***
About ESL Gaming
ESL Gaming is the world's leading esports company. For more than two decades, we have been shaping the industry and leading esports and gaming innovation globally across the most popular video games, creating a comprehensive ecosystem with opportunities for players to go from zero to hero, and for fans to witness the best stories esports has to offer. Our portfolio consists of high-profile products such as the ESL Pro Tour, Intel® Extreme Masters, DreamHack Festivals, the Snapdragon® Pro Series, and many more, ranging from grassroots to global elite competitions. ESL Gaming is a part of the world's leading competitive gaming platform ESL FACEIT Group.
###
Media contacts
Alex Blaikie | Communications Manager APJ