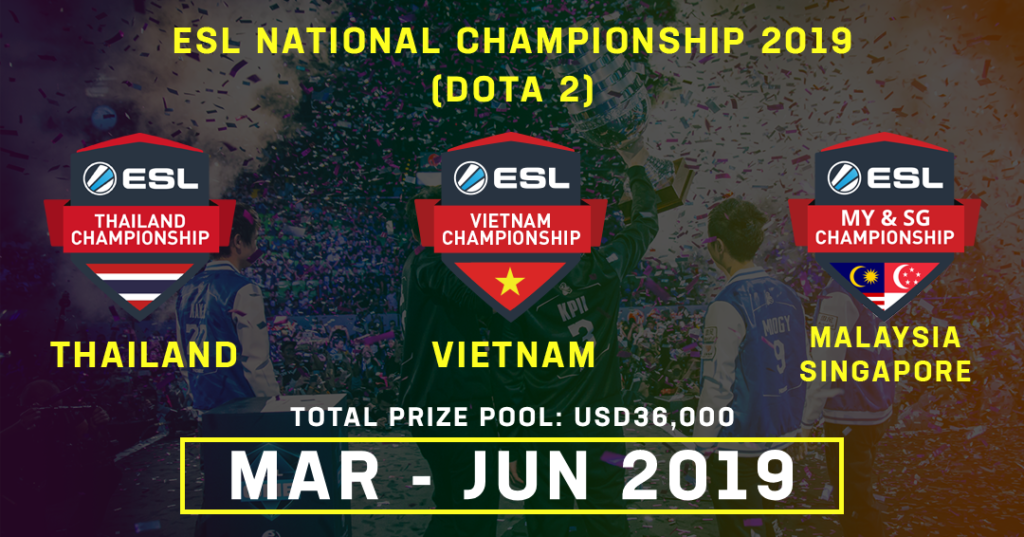 ESL, the world's largest esports company, is proud to announce the ESL National Championship 2019 for Dota 2 in Thailand, Vietnam & Malaysia/Singapore. The ESL National Championship is a tried and tested esports league that has already proven itself in more than 20 countries all around the world, to support local heroes and foster growth of the community.
Each of the ESL National Championships will feature 8 of the best Dota 2 teams from the respective regions, where they will compete for a total prize pool of USD12,000 per region and the chance to be named the best Dota 2 team in their region. A total of 4 online qualifiers will be held for each region and the top 2 teams of each qualifier will advance to the online season. The dates of the qualifiers are as follow:
Qualifier #1: Mar 13th (Wednesday)
Qualifier #2: Mar 16th (Saturday)
Qualifier #3: Mar 20th (Wednesday)
Qualifier #4: Mar 23rd (Saturday)
Teams can sign-up to the respective qualifiers here.
"The National Championships represent our commitment to growing local esports heroes in Southeast Asia," said Nick Vanzetti, Senior Vice President of ESL Asia-Pacific Japan. "Southeast Asia represents an expansive market filled with growth potential and some of the best teams in the region. We truly believe our approach can help facilitate more SEA players into the international esports scene, creating a true Zero to Hero story for the region."
The online season of the respective ESL National Championships will happen weekly from April to May and the top 4 teams will culminate into the offline finals in June. More details on the ESL National Championships will be announced at a later date. Until then, be sure to follow ESL Asia on Facebook, Twitter and Instagram to receive the latest updates on the ESL National Championship 2019. The Thai and Vietnamese fans can also follow ESL Thailand and ESL Vietnam respectively on Facebook.
###
About ESL
ESL is the world's largest esports company. Founded in 2000, ESL has been shaping the industry across the most popular video games with numerous online and offline competitions. It operates high profile, branded international leagues and tournaments such as ESL One, Intel® Extreme Masters, ESL Pro League and other top tier stadium-size events, as well as ESL National Championships, grassroots amateur cups and matchmaking systems, defining the path from zero to hero as short as possible. With offices all over the world, ESL is leading esports forward on a global scale. ESL is a part of MTG, the leading international digital entertainment group. (www.eslfaceitgroup.com)