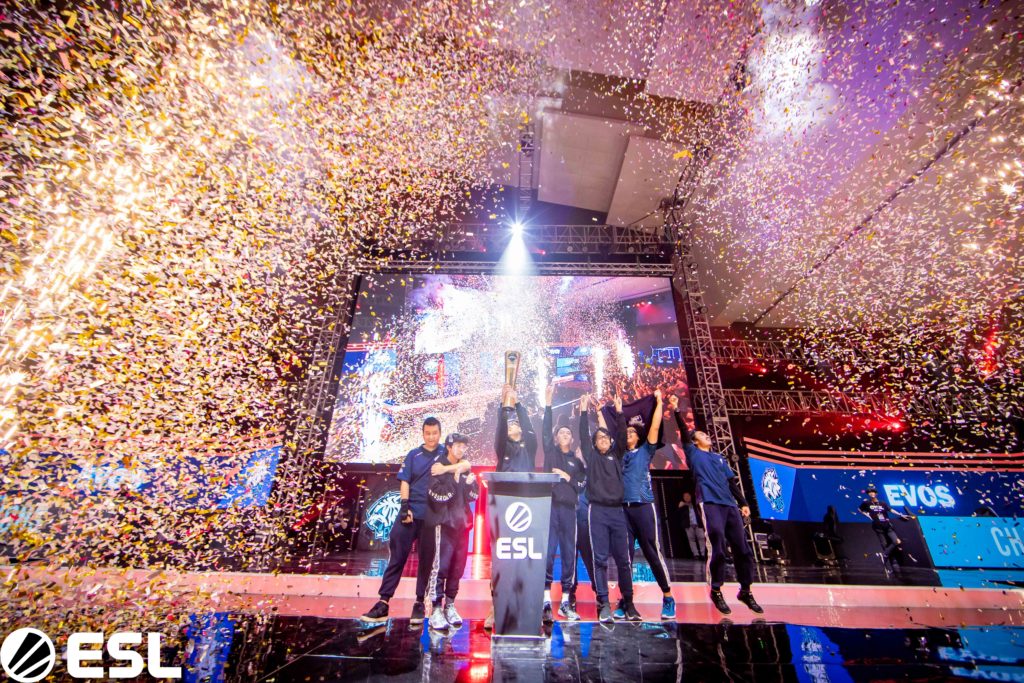 ESL, the world's largest esports company, celebrated the conclusion of the inaugural ESL Clash of Nations, presented by Indofood, in Jakarta, Indonesia. The ESL Clash of Nations featured the 6 best Arena of Valor teams in Southeast Asia where one of the Indonesian representatives, EVOS Esports, lifted the trophy in front of the local fans after a 3-2 victory over Thailand's Devita in the Grand Final. This is the first time an Indonesian AOV team became the champion of a regional tournament.
ESL Indonesia Championship (Arena of Valor & Dota 2)
The 3-day event (29th – 31st March) started with the ESL Indonesia Championship, presented by Indofood, for both Arena of Valor and Dota 2. After a 3-month long online season, the 2 best teams in Indonesia for their respective game played a best-of-5 grand final in front of a live audience. For Dota 2, BOOM ID showed their dominance and claimed the title of being the best team in Indonesia after a 3-0 victory over Aura Esports. For Arena of Valor, EVOS Esports managed to claim the title after a 3-1 victory over Saudara Esports.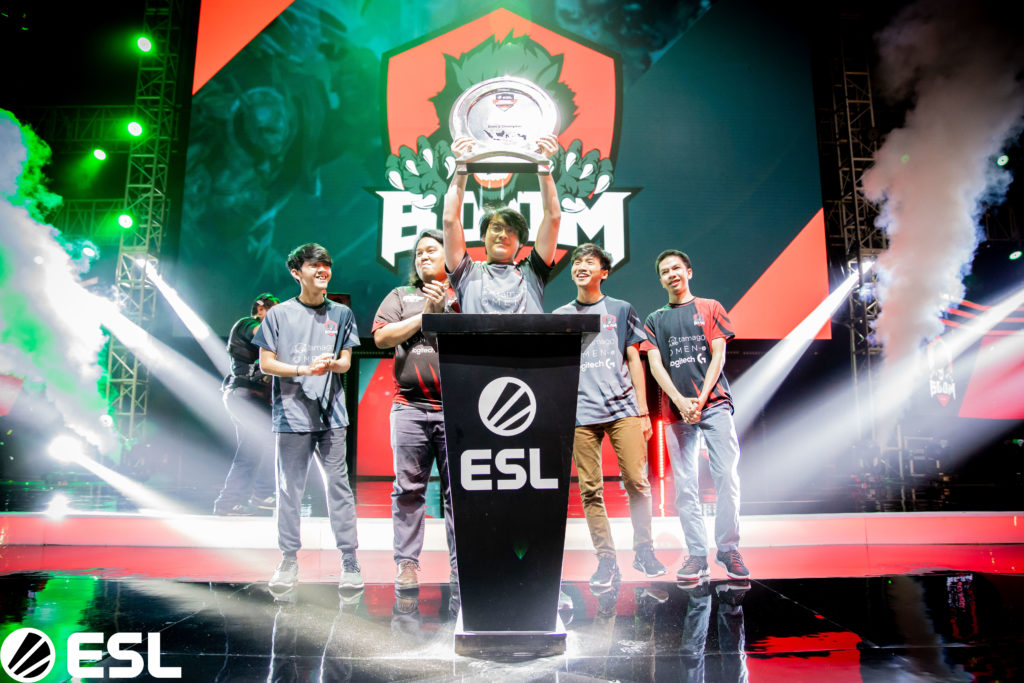 ESL Clash of Nations (Arena of Valor)
Both Indonesian teams, EVOS Esports & Saudara Esports, went on to compete against 4 other SEA teams in the ESL Clash of Nations on Saturday (30th March) & Sunday (31st March). After getting knocked down to the Lower Bracket after a 1-2 loss against Team Devita, EVOS Esports went on to make history for Indonesian esports, fighting their way through the Lower Bracket all the way to the Grand Final. EVOS Esports took down Vietnam's FAPTV 2-1 in the Lower Bracket Finals before finding themselves in a rematch against Thailand's Devita in the Grand Finals, where they emerged victorious.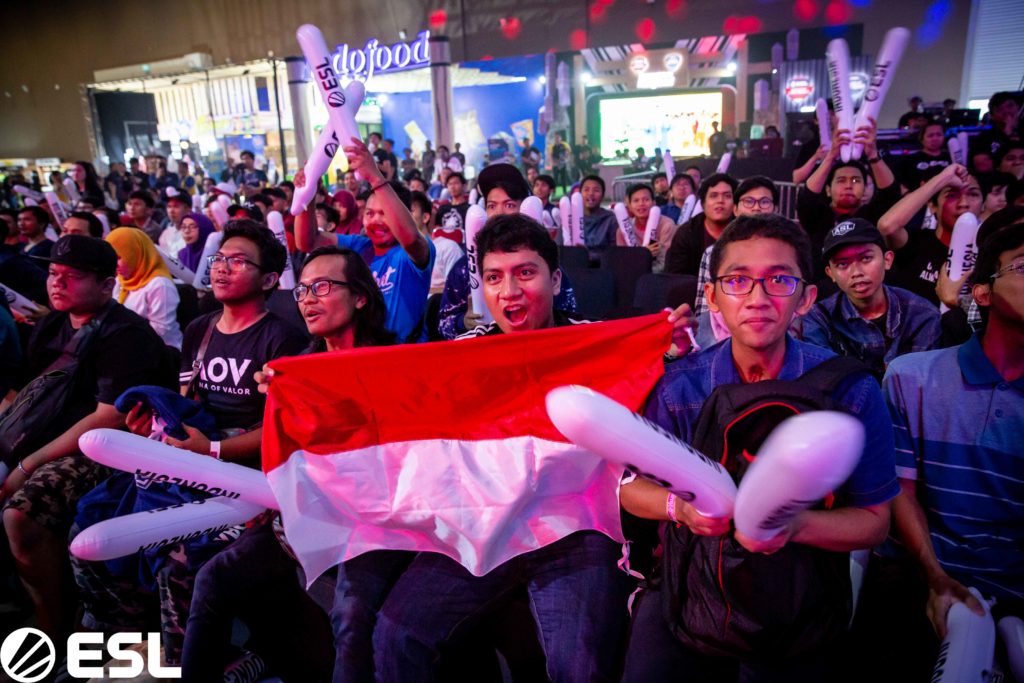 "The ESL Indonesia esports weekend in Jakarta created unforgettable moments and emotions for both the players and the fans," said Nick Vanzetti, Senior Vice President of ESL Asia Pacific Japan. "I'm impressed by the energy of the Indonesian fans and glad to be sharing these magical moments with the passionate Indonesia esports community."
"Our goal at Indofood is to bring Indonesian esports to the international stage and I'm very proud to see that EVOS Esports was able to lift the ESL Clash of Nations trophy in front of the Indonesian fans." said Axton Salim, Director of Indofood. "I hope to see more Indonesian teams achieving championship titles in the future."
A total of US$100,000 in prize money was awarded over the weekend with EVOS Esports taking home US$50,000. Apart from the ESL Indonesia Championship and ESL Clash of Nations, there were many side activities including COSWALK competition, Free Fire Arena mini tournament, ESL Fighting Arena and Speed Drifters Experience. Fans were also able to visit the sponsor booths from Indofood, PopMie, Chitato, Indomilk, Mercedes Benz, Acer Predator, CBN Fiber, Elevenia, Ottopay and NimoTV.
To stay up to date with the latest news in Asia, please follow ESL Asia on Facebook, Twitter and Instagram. All the VODs for the entire ESL Indonesia Championship Season and ESL Clash of Nations can be found on the ESL Indonesia YouTube channel.
###
About ESL
ESL is the world's largest esports company. Founded in 2000, ESL has been shaping the industry across the most popular video games with numerous online and offline competitions. It operates high profile, branded international leagues and tournaments such as ESL One, Intel® Extreme Masters, ESL Pro League and other top tier stadium-size events, as well as ESL National Championships, grassroots amateur cups and matchmaking systems, defining the path from zero to hero as short as possible. With offices all over the world, ESL is leading esports forward on a global scale. ESL is a part of MTG, the leading international digital entertainment group. (www.eslfaceitgroup.com)
About PT Indofood Sukses Makmur Tbk
In the last two decades, Indofood has transformed to become a Total Food Solutions company with operational activities that covers the whole food production process, starting with production and manufacturing of raw materials up until final products available in the market. Now Indofood is known as a well-established and reputable company in each category of its business. In conducting its operational activities, Indofood obtained benefits from economic scales and the effectiveness of its business model which consists of four Strategic Business Groups which are complementary to each other as follows:
Consumer Branded Products ("CBP")
With the support of its product brands, CBP Group produces various consumer branded products which includes instant noodles, dairy products, snack foods, food flavouring, nutrition and special foods, and beverages.


This Group has the primary activity of producing wheat flour and pasta, supported by shipping and packaging business units.
Agribisnis Group primary activities covers research and development, breeding of seeds, cultivation and processing of palm oil up until the production and sales of cooking oil products, margarine and shortening. Aside from that, the business activity of this group also covers also include the cultivation and processing of rubber, sugar cane, and other crops
With the largest distribution network in Indonesia, this group distributes a large portion of consumer products for Indofood and its subsidiaries, as well as various third-party products.