Australian Call of Duty players invited to compete in support of Sony Foundation's youth cancer initiative, 'You Can'
Sydney, Australia – 17th June 2019 – Sony Foundation, the charitable arm of the Sony Group of Companies operating in Australia, with the support of ESL, the world's largest independent esports company, today announced the Gaming4Life Call of Duty Charity Tournament 2019, Supported by ESL, an initiative to bring Australia's best Call of Duty: Black Ops 4 players together to raise funds for Sony Foundation's youth cancer initiative, 'You Can'.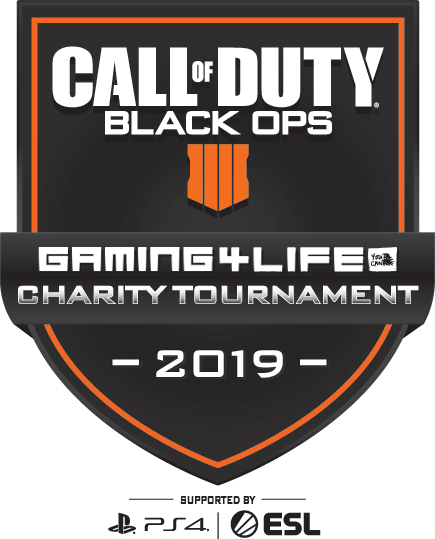 Players are invited to participate in an online qualifier series hosted over three weeks, with the top seven teams and highest fundraising team qualifying through to an online finals event on Saturday July 6. Professional Australian esports organisation Mindfreak will also compete in the finals, which will feature a live broadcast from the ESL Studios, Sydney. Viewers will be able to tune in on twitch.tv/esl from 4pm AEST, and are encouraged to donate in support of the cause.
Teams will be encouraged to raise funds during the tournament with the highest fundraising team at the end of the qualifying round granted a position in the Charity Tournament final. The major prize1 up for grabs is a once-in-a-lifetime opportunity to watch the Call of Duty World League Finals live in Miami from July 19 – 21, 2019 including flights and accommodation for all five team members. This prize will be awarded to the team that raises the most funds by the end of the Charity Tournament final, broadcast on July 6 2019, and all teams registered to compete and fundraise are in the running to win.
Players competing in the Charity Tournament will have the chance to win a number of prizes with a total prize pool value of over $40,000 including; hardware and games from PlayStation, Activision and Sony Electronics, exclusive tournament merch, five weekend tickets to the Melbourne Esports Open™ this August, and an ESL Merchandise package valued at $1,000.
All tournament, fundraising, and registration information can be found on the event page at https://tiltify.com/sony-foundation-australia/gaming4life-cod-charity-tournament-2019
Sony Foundation's CEO, Sophie Ryan says that the long-term aim of the 'You Can' program is to establish youth cancer centres across Australia.
"This is our third year hosting a Gaming4Life Charity Tournament and we are always so humbled by the generosity and empathy of the gaming community. We hope this tournament in partnership with Activision, ESL and Sony PlayStation raises over $70,000 to help teenagers and young adults with cancer who are sadly falling through a gap in our health system." said Sophie Ryan, Sony Foundation. "Funds raised will enable more You Can Centres for specialised care and supports services for this age group in hospitals around Australia. We're really excited to see the Call of Duty community come together to have some fun and help make a change in the lives of young Australians."
"Gaming4Life is a fantastic initiative for us to be a part of, and one that the whole team at ESL is passionate about." said Josh Inman, Operations Manager, ESL Australia. "We're excited to show what the Call of Duty esports community can do together in support of a great cause."
'You Can' was founded in 2010 by Sony Foundation Australia to build specialised youth cancer centers for patients aged 15–25 to address low survival rates from lack of age-appropriate care. Since then, 'You Can' has opened centres in Melbourne and Perth where young people undergo treatment with peers, access specialised services and support while also getting to bond over video games and the latest tech from Sony. Fundraising efforts in Gaming4Life 2019 will go toward opening more centres throughout Australia.
—
Media Contact:
Alex Blaikie, PR & Social Manager, ESL Australia
ESL is the world's largest esports company. Founded in 2000, ESL has been shaping the industry across the most popular video games with numerous online and offline competitions. It operates high profile, branded international leagues and tournaments such as ESL One, Intel® Extreme Masters, ESL Pro League and other top tier stadium-size events, as well as ESL National Championships, grassroots amateur cups and matchmaking systems, defining the path from zero to hero as short as possible. With offices all over the world, ESL is leading esports forward on a global scale. ESL is a part of MTG, the leading international digital entertainment group. https://eslfaceitgroup.com/
Sony Foundation Australia (Sony Foundation) is the charity arm of the Sony Group of Companies in Australia. Established in 1998, Sony Foundation has raised over AU$32 million for youth focused causes and charities in Australia. Charged with the mission to improve the lives of young Australians in need, the Foundation celebrates 'One Sony' and brings together the assets and reach of the Australian Sony Companies to deliver on its commitment to help young people realise their dreams.
Call of Duty: Black Ops 4 is published by Activision and developed by Treyarch with additional development support from Raven Software and PC development with Beenox. For the latest intel check out: www.callofduty.com, www.youtube.com/callofduty and follow @CallofDuty and @Treyarch on Twitter, Instagram and Facebook. Call of Duty: Black Ops 4 is available on PlayStation®4 system, Xbox One, and PC exclusively on Blizzard Battle.net®. The game is rated MA15+ for Mature (Strong Supernatural Themes and Bloody Violence, Online Interactivity).
About Activision
Headquartered in Santa Monica, California, Activision is a leading global producer and publisher of interactive entertainment. Activision maintains operations throughout the world and is a division of Activision Blizzard (NASDAQ: ATVI), an S&P 500 company. More information about Activision and its products can be found on the company's website, www.activision.com or by following @Activision.
ACTIVISION, CALL OF DUTY, and CALL OF DUTY BLACK OPS are trademarks of Activision Publishing, Inc. All other trademarks and trade names are the properties of their respective owners.
"PlayStation" is a registered trademark and "PS4" is a trademark of Sony Computer Entertainment Inc.

1. Major Prize T&C's: Players must be eligible to travel to the USA between 17 July 2019 – 23 July 2019. Players must be 18 years of age, or have a guardian travel with them at their own expense. Flights will be Sydney – Miami return only. Please visit T&C's document for full T&Cs: http://bit.ly/2WBD1Bo