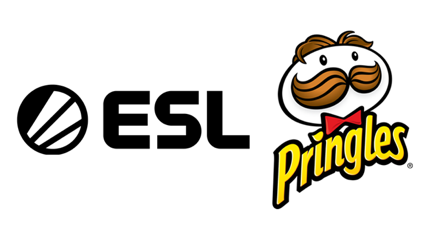 ESL is proud to announce the continuation of the existing partnership with Pringles across multiple markets such as Germany, Poland and the Nordics. Following on from successful collaborations across multiple tournaments such as IEM Katowice, ESL One Hamburg, ESL One Cologne and ESL Meisterschaft in previous years, Pringles will continue being an Official Partner of all ESL National Championship tournaments in Germany and Poland for another year.
The partnership featured specifically created team-themed cans that were being delivered to fans during past tournaments, transporting the Pringles logo and brand to several thousand viewers. Pringles graphics and commercials were shown both in tournament streams as well as in the arenas, ensuring maximum brand visibility. Throughout the tournaments, several ground activations caught the eyes of esports fans – Pringles products and items like table soccer and bean bags in the player's hotel and VIP area as well as individualized player welcome goodies as well as high on-ground presence through an interactive and entertaining booth area with exclusive gaming stations, public viewing of the tournament and delicious Pringles snacks created an amazing fan experience and unique content.
Pringles is continuing this successful cooperation, which kicked off at Katowice this year. Alongside ESL, the brand is working on creative activations which fit the challenging new scenario and at the same time will guarantee an incredible fan experience. For ESL Meisterschaft in Germany as well as the National Championship in Poland, planned activities will include branding, in-game logo rotation, broadcast commercials as well as several social media exertions.
"Over the years, the community feedback was overwhelmingly positive. Therefore, we are happy to continue our successful partnership with Pringles, spanning over multiple tournaments in 2020. We are proud that Pringles is expanding their partnership with us in these difficult times.", says Stephan Schröder, SVP Global Brand Partnerships EMEA at ESL.
Doris Filseth, Market Activation Lead High Growth Markets says, "We are a first mover within ESL sponsoring and are happy about the positive development of this collaboration." Tanja Buehrmann, Market Activation Lead Germany/ Austria adds, "The ESL community loves Pringles and we are therefore expanding our engagement in 2020 once again."
For more information on this, please reach out to our press team via press@eslgaming.com.