The tournament organiser will also run the official collegiate tournaments in Thailand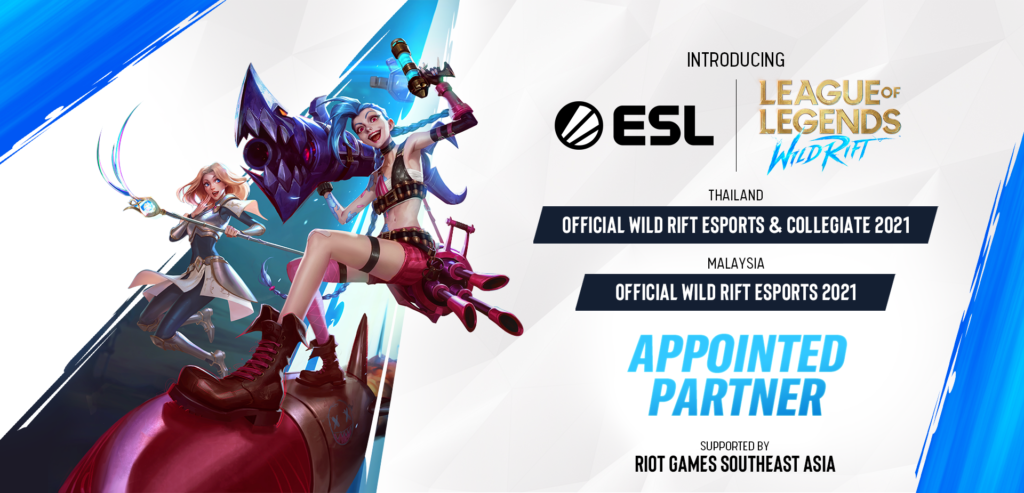 Singapore – ESL Gaming, the world's largest esports company, announced that it will be operating the official League of Legends: Wild Rift esports tournaments in Malaysia and Thailand for 2021 and the official collegiate tournament in Thailand only, as the appointed partner of Riot Games Southeast Asia.
The official circuit will start in April 2021 with teams qualifying through an open qualifier system and competing over a period of three months for the title of the best team in their respective countries. Each of the local champions will then move on to represent their country and compete in a Southeast Asia regional tournament.
"The mobile esports market in Southeast Asia continues to grow at breakneck speed and we are excited to have Wild Rift in Malaysia and Thailand for 2021," said Nick Vanzetti, Senior Vice President of ESL Gaming Asia-Pacific Japan. "We are proud to expand our partnership with Riot Games with more titles and build up the Wild Rift esports ecosystem together with them in Malaysia and Thailand."
Chris Tran, Head of Esports for Riot Games Southeast Asia, Taiwan, Hong Kong, and Macau, also expressed his excitement, "We are delighted that League of Legends: Wild Rift players and teams in Thailand and Malaysia will have a chance to showcase their talents on the local and regional stage. In partnership with ESL, we look forward to bringing an exciting year of new legacies and team rivalries to passionate mobile MOBA esports audiences across these key markets. Our collegiate tournaments in Thailand will also set the scene for up and coming MOBA competitors, with community-focused gaming experiences that everyone can enjoy."  
ESL will also be running Wild Rift Open Cups on ESL Play in 2021 to provide additional opportunities for aspiring teams to compete. More information on 2021 Wild Rift esports will be released in the coming week. Be sure to follow ESL Asia on Facebook, Twitter and Instagram for the latest updates.
###
About ESL Gaming
ESL Gaming is the world's largest esports and gaming lifestyle company. Since 1994, the company has been shaping the industry and leading esports and gaming innovation on a global scale across the most popular video games with numerous online and offline esports competitions, and through premier gaming lifestyle festivals. The company operates high-profile, branded international leagues and tournaments under the ESL Pro Tour, including ESL One, Intel® Extreme Masters, DreamHack Masters, ESL Pro League, and other preeminent, stadium-size tournaments. ESL Gaming also produces and hosts DreamHack Open tournaments, ESL National Championships, grassroots amateur cups, matchmaking systems, and DreamHack's gaming lifestyle festivals — which feature everything gaming under one roof. ESL Gaming is part of MTG, the leading international digital entertainment group. More information is available at eslfaceitgroup.com.
About League of Legends: Wild Rift:
League of Legends: Wild Rift is the skills-and-strats 5v5 MOBA experience of League of Legends, now built from the ground up for mobile and console. With fresh controls and fast-paced games, players of every level can team up with friends, lock in their champion, and go for the big plays.
About Riot Games:
Riot Games was founded in 2006 to develop, publish, and support the most player-focused games in the world. In 2009, Riot released its debut title, League of Legends, to worldwide acclaim. League has gone on to be the most-played PC game in the world and a key driver of the explosive growth of esports.
As League enters its second decade, Riot continues to evolve the game while delivering new experiences to players with Teamfight Tactics, Legends of Runeterra, VALORANT, League of Legends: Wild Rift, and multiple work-in-progress titles. Riot is also building the world of Runeterra through multimedia projects across music, comic books, board games, and the upcoming animated series Arcane.
Founded by Brandon Beck and Marc Merrill, and led by CEO Nicolo Laurent, Riot is headquartered in Los Angeles, California, and has 2,500+ Rioters in 20+ offices worldwide.
###
For any press inquiries, please contact:
Eugene Hong – PR | ESL Asia 
press.asia@eslgaming.com
M +65 9159 3197