Intel® and DHL first partners to support progressive women's competitive ecosystem
Cologne/New York/Stockholm – ESL Gaming, the world's leading esports company, together with Intel® and DHL, today announced the women's CS:GO circuit. As part of ESL Gaming's long-term ambition to create a world where everybody can be somebody, this all-new competitive ecosystem around Counter-Strike: Global Offensive (CS:GO), one of the most popular esports titles worldwide, aims to increase awareness, provide new opportunities, and improve the representation for all women CS:GO players.
The initiative is the first step of many in ESL Gaming's new #GGFORALL program, following the belief that "it's not GG (Good Game), until it's GG for all," and focusing on pushing the boundaries to ultimately make gaming and esports an inclusive, respectful and all-empowering space. This program will include several Corporate Social Responsibility (CSR) initiatives to decrease the company's environmental impact, to aid in establishing an inclusive gaming community free of discrimination, verbal abuse, and bullying, and much more.
Supported by Intel® and DHL, the CS:GO ecosystem for women offers $500,000 across regional leagues, standalone events at DreamHack festivals, and ESL Cash Cups:
The new leagues feature eight teams in both Europe and North America and a total of $150,000 prize pool. The three best teams from both regions, together with a South American and an Asian-Pacific team coming from open qualifiers, participate in the Global League Finals at DreamHack Dallas (June 3-5, 2022) and DreamHack Winter (November 25-27, 2022).
Furthermore, during DreamHack festivals, there will be standalone events which will, per event, see eight teams from all four regions battle over a $100,000 prize pool, equal to ESL Challenger events that are part of ESL Pro Tour. The first event will take place at DreamHack Valencia on July 1-3, 2022.
Finally, starting in January 2022, ESL Cash Cups for women's teams will be added to ESEA, giving teams featuring a full women's roster the opportunity to compete twice a month for their share of a total of $4,000 prize pool (split evenly between the Asian-Pacific, European, North American and South American regions).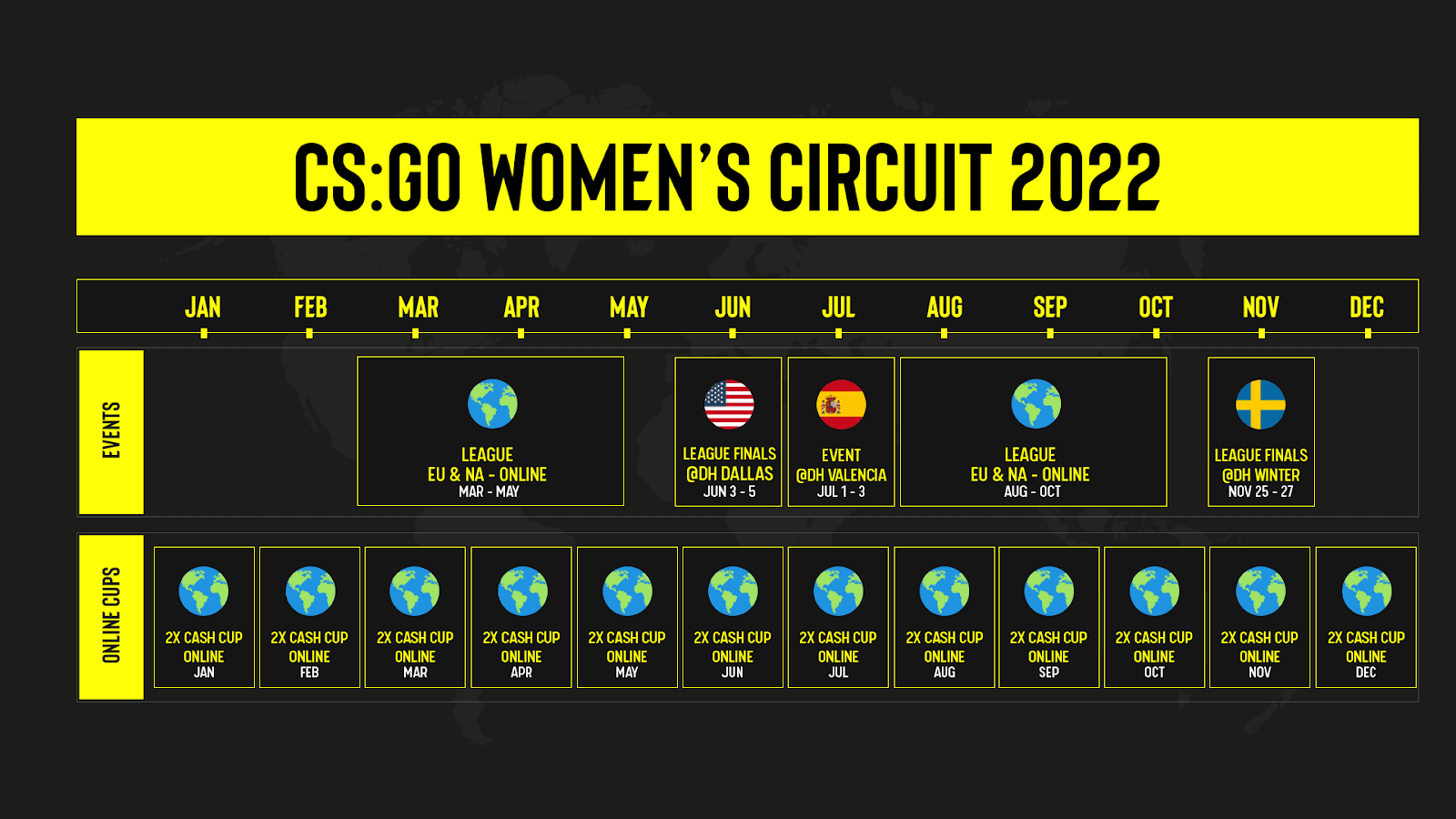 On top of that, ESL Gaming has committed to instituting a women players council that will aid in defining further details around the CS:GO ecosystem for women and that provides women a platform for consolidated feedback towards ESL Gaming and other Tournament Organizers. Moreover, ESL Gaming continues to work towards increasing the representation of women as broadcasting talents as well as within the company. To amplify that, it will introduce a talent development program that provides select aspiring broadcast talents the necessary tactics and tools to become successful and offers opportunities to cast competitions within ESL Gaming's CS:GO ecosystem. Likewise, the company is opening up additional job opportunities within the company to enhance the new product further.
"By providing an infrastructure equal to their male counterparts, we are thrilled to create more visibility and opportunities for women in the esports space, as well as to support them in their professional development and to help make their dreams come true," said Roberta Hernandez, SVP People and Culture at ESL Gaming. "This is only the first part of a number of #GGFORALL initiatives we are currently working on and we can't wait to tell you more about what is yet to come."
"At ESL Gaming we truly believe in a world where everybody can be somebody, so going back to the grassroots level and creating an all-new ecosystem to ensure ambitious women CS:GO players are given equal chances is a great step forward," added Brian Krämer, General Manager, CS:GO at ESL Gaming, and Charlie Sirc, Product Manager at ESL Gaming, in a joint statement. "With a great lineup of events for next year already, we are super excited to develop this new product further in 2022 and beyond."
Other CSR initiatives launched in conjunction with the women's CS:GO circuit include ESL Gaming's recently announced efforts to offset its carbon footprint.
For more information about the CS:GO ecosystem for women please visit the official website via ggforall.gg.
Stay tuned as more #GGFORALL initiatives will be announced in due course. For more general information please head to eslfaceitgroup.com, follow ESL Gaming on LinkedIn, Twitter, Facebook, and Instagram, and sign up to ESL Gaming's press release subscription list.
###
About ESL Gaming
ESL Gaming is the world's leading esports company. For more than two decades, we have been shaping the industry and leading esports and gaming innovation globally across the most popular video games, creating a comprehensive ecosystem with opportunities for players to go from zero to hero, and for fans to witness the best stories esports has to offer. Our portfolio consists of high-profile products such as the ESL Pro Tour, Intel® Extreme Masters, ESL Mobile, DreamHack Festivals, and many more, ranging from grassroots to global elite competitions. ESL Gaming is part of MTG, the leading international digital entertainment group.
More information is available at eslfaceitgroup.com.