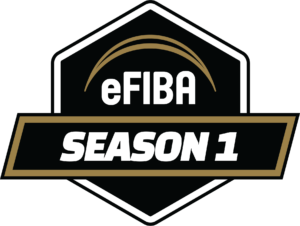 From January 20th, 30 nations across the globe will be fighting for glory in FIBA's official NBA 2K tournament, eFIBA Season 1
PRESS RELEASE SUMMARY:
– FIBA and EFG agree on long-term cooperation to organize and monetize FIBA's esports
– A total of 30 National Federations competing in the inaugural season; eFIBA Season 1
– eFIBA Season 1 is FIBA's official eBasketball event, played in this edition with the game NBA2k23 and using ProAM gamemode
Copenhagen/Mies — ESL FACEIT Group (EFG) and FIBA (International Basketball Federation) today announced the inaugural season of FIBA's official NBA® 2K23 tournament: eFIBA Season 1.
eFIBA has had three successful editions of FIBA Esports Open in 2020 and 2021, and Season 1 has now been launched across social media.
"We are excited about the upcoming tip-off of the eFIBA Season 1, FIBA's eBasketball tournament on NBA2K23, and our collaboration with EFG," said FIBA Secretary General Andreas Zagklis. "These upcoming seven tournaments will provide National Federations with the opportunity to compete against the best eBasketball national teams in the world, building on the momentum created from the FIBA Esports Open events in 2020 and 2021."
"The NBA2K community and game is in the top 3 sports game titles globally," said Roger Lodewick, President Sports Games at EFG. "We're therefore thrilled to start this long-term cooperation with FIBA and develop and serve the eFIBA community. It will enable us to complement the NBA2K offering with competitive national team eBasketball and provide the community with bold and entertaining online and in-person events."
The tournament consists of 7 online regional events across all 4 FIBA Regions (Europe, Americas, Asia, and Africa).
Regional Qualifiers
January 20th: eFIBA 2023 Qualifiers Asia
January 21st: eFIBA 2023 Qualifiers Africa
January 22nd: eFIBA 2023 Qualifiers Europe
Regional Finals
January 24th: eFIBA 2023 Finals Asia (Middle East & South East Asia)
January 24th: eFIBA 2023 Finals Africa
January 25th: eFIBA 2023 Finals Americas (North & South America)
January 25th: eFIBA 2023 Finals Europe
A total of 30 National Federations are divided into six conferences and will be competing for the title of Conference Champions throughout the very intense inaugural season.
PARTICIPATING NATIONS
| | | | |
| --- | --- | --- | --- |
| AFRICA | AMERICAS | ASIA | EUROPE |
| Benin | Argentina | Qatar | Belgium |
| Burkina Faso | Barbados | Indonesia | Cyprus |
| Cote d'Ivoire | Brazil | Lebanon | France |
| Egypt | Puerto Rico | Mongolia | Germany |
| Ghana | | Philippines | Great Britain |
| Madagascar | | Saudi Arabia | Italy |
| Morocco | | | Latvia |
| Tunisia | | | Lithuania |
| | | | Portugal |
| | | | Spain |
| | | | Turkey |
| | | | Ukraine |
Each Nation Federation is represented by a team of a minimum of five players, each playing their own personal in-game avatar.
Several of the FIBA Esports Open 2021 champion Nations are participating in the inaugural season of eFIBA and they will need to bring their A-game. The 30 participating Nations will bring the very best NBA 2K23 players in the world, and Season 1 will undoubtedly bring out the emotions of frustration, joy, and everything in between.
The eFIBA Season 1 will be all about national pride as the very best players from each of the 30 participating nations fight it out on the court to gain glory for their own country.
Make sure you don't miss a beat by checking out the eFIBA_official channels on Twitter, Instagram and TikTok.
eFIBA Season 1 can be followed on the Region event websites in Africa, the Americas (North and South), Asia (Middle East & South East Asia), and Europe. Broadcasts will be live on Twitch and YouTube via FIBA.

For more general information, visit eslfaceitgroup.com or follow ESL FACEIT Group and ESL on LinkedIn, Facebook, Twitter, and Instagram.
* * *
About FIBA
FIBA (fiba.basketball) – the world governing body for basketball, is an independent association formed by 212 National Basketball Federations throughout the world. It is recognized as the sole competent authority in basketball by the International Olympic Committee (IOC).
For further information about FIBA, visit fiba.basketball or follow FIBA on facebook.com/fiba, twitter.com/fiba, instagram.com/fiba and youtube.com/fiba
About EFG
The ESL FACEIT Group is the leading competitive games and esports company. At EFG we create worlds beyond gameplay where players and fans become community. The company is built on the great legacy of the world-renowned ESL, FACEIT, DreamHack and DreamHack Sports Games brands. We harness this legacy to further innovate and develop the esports and gaming landscape worldwide. Working with our developer, publisher, brand, and media partners, we deliver products and experiences that accelerate gaming culture and make gamer communities come together. Join us on the journey as we help gaming communities thrive by creating worlds beyond gameplay that unite players, fans, and creators around the esports and games they love.
###