Record attendance at Australia's second DreamHack festival, as fans descend on Melbourne for a weekend of gaming, esports & more
Melbourne, Monday, 1 May — This weekend saw Australia's biggest gaming, esports, and lifestyle festival, DreamHack Melbourne, return to Melbourne & Olympic Parks with a total of 25,851 passionate fans in attendance across three days, up from 21,000 in 2022. Attendees were treated to a smörgåsbord of activities, including a sold-out Bring-Your-Own-Computer LAN party with $40,000 in prizes, a $16,000 Cosplay Competition, live music performances, an artist alley, the latest tech & games at the DreamHack expo, content creator meet & greets, and educational panels.
Esports fans were treated to a spectacle across two stages in Margaret Court Arena, as Movistar Riders took out the top spot in the Counter-Strike: Global Offensive ESL Challenger tournament, while The Chiefs scored the win in the League of Legends Circuit Oceania Finals, with over $200,000 awarded in prize money across the weekend. Aspiring professional gamers competed in the Bring-Your-Own-Computer (BYOC) LAN competition across VALORANT, Fortnite, Rocket League, CS:GO, Age of Empires and more.
Victorian Minister for Tourism, Sport and Major Events Steve Dimopoulos attended the opening ceremony of DreamHack Melbourne 2023 at Rod Laver Arena to welcome competitors, spectators and visitors of all ages to Melbourne.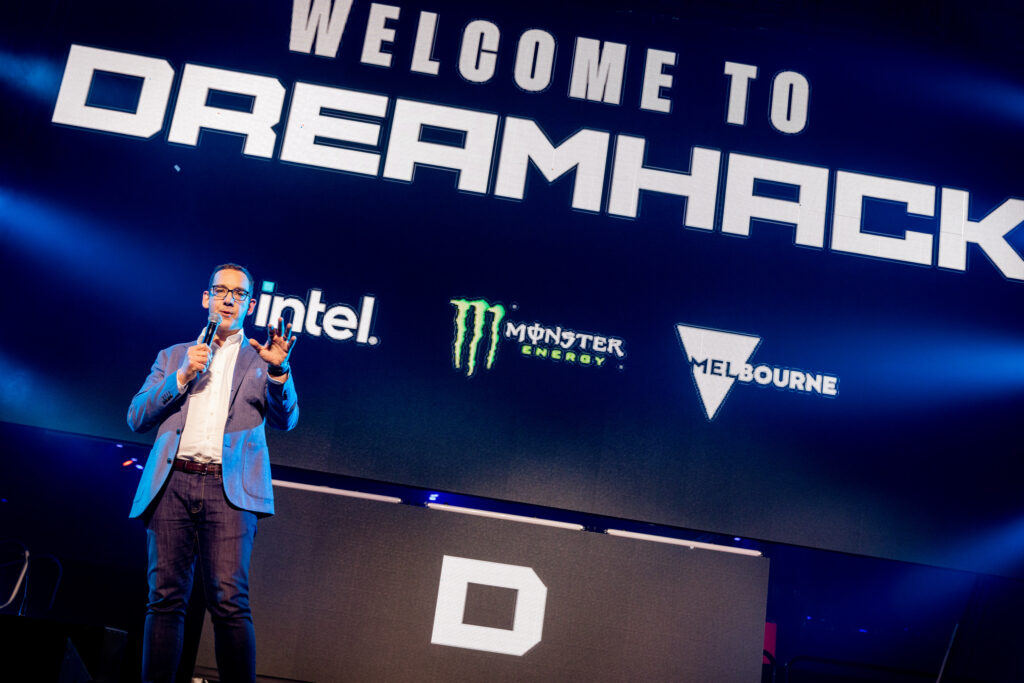 "DreamHack's return to Melbourne was a roaring success," said Nick Vanzetti, MD & SVP at ESL FACEIT Group Asia-Pacific Japan. "The diverse range of content at this year's festival resonated with fans, which resulted in record ticket sales & attendance – the highest we've ever seen in Australia."
"We're incredibly proud of how DreamHack Melbourne has evolved this year, bringing together a diverse range of fans to experience the incredible atmosphere of DreamHack." said Christoffer Melin, Director DreamHack Festivals at ESL FACEIT Group. "It was an honor to be a part of this vibrant celebration, where the passion and energy of our community took centre stage."
DreamHack Melbourne tournament results:
Counter-Strike: Global Offensive (ESL Challenger)
1st: Movistar Riders (Spain) – $50,000 USD
2nd: Bad News Eagles (Kosovo) – $20,000 USD
3-4th: Grayhound.Rivalry (ANZ) – $10,000 USD
3-4th: Ecstatic (Denmark) – $10,000 USD
League of Legends (League of Legends Circuit Oceania (LCO) Finals)
1st: The Chiefs (ANZ) – $15,000 USD
2nd: Team Bliss (ANZ) – $10,000 USD
Cosplay Competition
1st: Zaphy Cosplay $7,500 AUD
2nd: Miss Twisted $5,000 AUD
3rd: Robb Props & Cosplay $2,500 AUD
* * *
About DreamHack
DreamHack creates a world where the gaming community comes to life. The festivals, featuring everything gaming under one roof, create an arena where you can come to connect, explore, win, play a part, and be yourself through a gaming lifestyle experience. Attendees meet their favorite creators, experience professional esports tournaments, amateur and varsity gaming tournaments, world-famous bring-your-own-computer (BYOC) LAN party, cosplay championships, panels, art, activities, expo, screenings, live music, and more. DreamHack is part of ESL FACEIT Group, the leading competitive games and esports company.
ABOUT TEG LIVE
TEG Live is wholly owned by TEG, Asia Pacific's leading ticketing, live entertainment and data analytics company. TEG Live is a dynamic and diverse promoter of live content in music, sport, family entertainment, esports and exhibitions. TEG Live connects millions of fans every year with unique live experiences and adds value to events with hospitality and sponsorship services. For more information, visit: http://www.teglive.com.au
ABOUT VISIT VICTORIA
Visit Victoria is the state's tourism, business and major events company, inspiring people to visit Melbourne and Victoria through creative story-telling and enriching events.
# # #
Press contacts:
Doug Johns, POWER UP PR
Alex Blaikie, ESL FACEIT Group