The nail-biting finale saw Marcell Csincsik and runner-up James Baldwin racing head-to-head
PRESS RELEASE SUMMARY
– The top 12 drivers from the inaugural ESL R1 Major have claimed a stake of the 2023 Spring Season's total prize pool of €225,000.
– R8G eSports driver Marcell Csincsik crossed the finish line first and takes home the top prize of €45,000 and the title as the first ESL R1 Driver Champion ever.
– Across two days of competition, fans and on-site spectators watched the best drivers from teams such as R8G eSports, MOUZ, and G2 Esports compete head-to-head across a series of exhilarating races.
June 4, 2023, New York/Cologne/Munich – The ESL R1 2023 Spring Season has come to an exciting conclusion as the top 24 drivers of the season raced against one another across two days at the inaugural ESL R1 Major. Fans worldwide were kept on the edge of their seats as they tuned in during the broadcast and cheered on their favorites in-person during the live event taking place at the RENNSPORT Summit in Munich, Germany. Eventually, it was R8G eSports driver Marcell Csincsik who took the checkered flag with 240 points, driving away with €45,000 of the €225,000 total 2023 Spring Season prize pool.
The 2023 Spring Season of the ESL R1 circuit commenced on February 11-12, 2023, with its first two Rounds taking place live at the IEM Expo in Katowice, Poland. Throughout the season's eight Rounds, Team Redline's Luke Bennett, and Porsche Coanda Esport Racing Team's Joshua Rogers, dominated the tracks as they raced alongside 46 other drivers in their attempt to reach the pole position.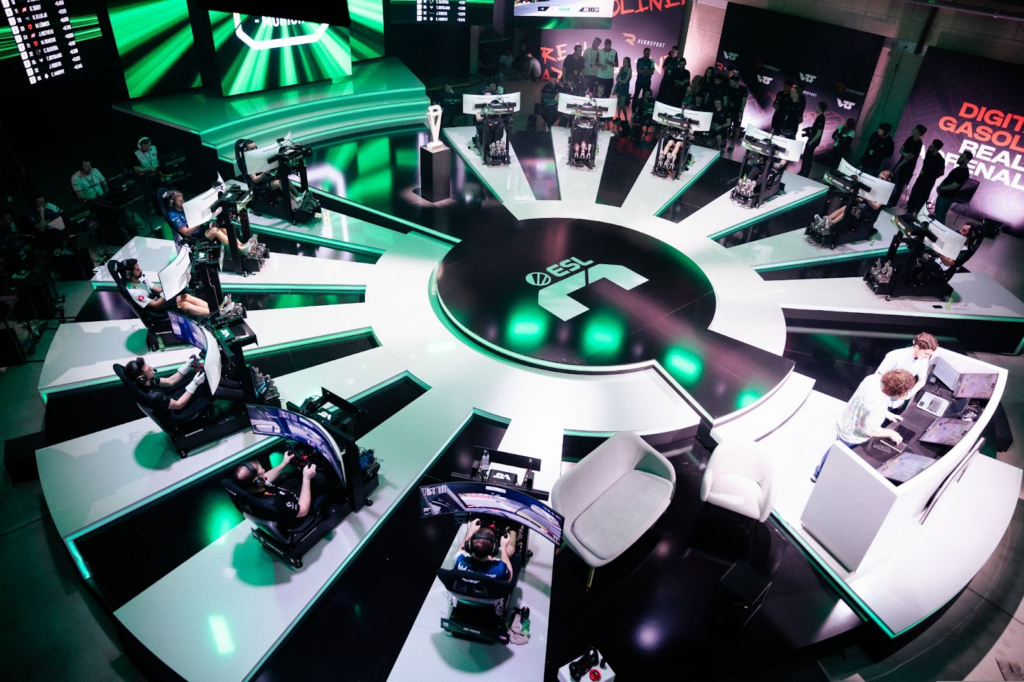 On June 3 – Major Day 1 – the 24 competing drivers were split equally into two groups and were facing off against each other in eight races. The day saw many great highlights, including Mercedes-AMG Petronas Esports Team's James Baldwin winning his very first race in the 2023 Spring Season on the Nürburgring track, while also claiming the first place on the Monza track shortly after.
Only the top 12 drivers advanced to Major Day 2 on June 4 and the heat was on as the Hungarian driver Marcell Csincsik became the first to reach "Finalist Mode" by surpassing 160 points. Being only one race away from securing the Champion's title, however, James Baldwin caught up with him as the Englishman took the lead in Race 5 and also reached "Finalist Mode." After two more intense races, Joshua Rogers, Luke Bennett, and Dáire McCormack also got in line for the title.
After a series of edge-of-your-seat races, Marcell Csincsik eventually managed to secure the final needed win and, with 240 points, claimed the well-earned and coveted ESL R1 2023 Spring Major Driver Championship title. Luke Bennett (187 points) and James Baldwin (183 points) trailed behind in a close second and third place, taking home €20,000 and €12,500 respectively.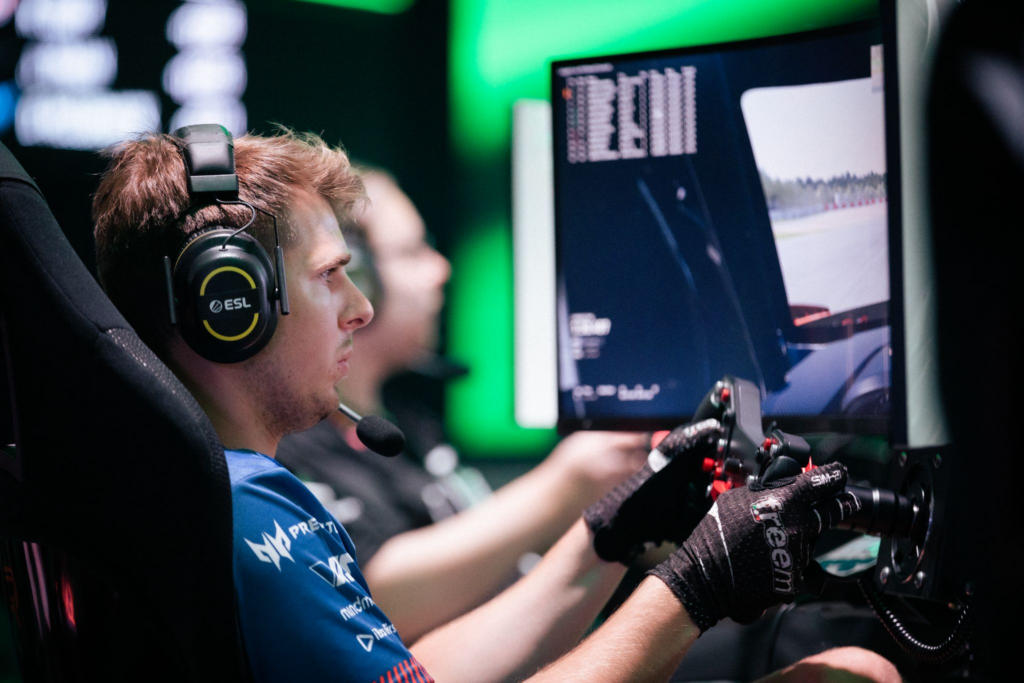 "Absolutely amazing feeling, I was expecting somebody else to win – not me, the Underdog," said Marcell Csincsik. "48 drivers around the world and it's absolutely crazy that it's me on the top. I want to thank my family, my team, just everyone, and ESL for organizing this whole thing – it was really amazing. Thank you, everyone."
"What a show! What a season! What an event in Munich," said Romain Grosjean, CEO of R8G eSports. "Congrats to Marcell for the Driver title, to R8G team for the second place in the Team standings, and to ESL for having created such a great virtual racing event."
The €225,000 total prize pool of the ESL R1 2023 Spring Season marks one of the largest seen in a virtual racing tournament. €112,500 was distributed to competing teams as part of the Team Championship, with Team Redline securing the first place position. The other half of the total sum was part of the Driver Championship which concluded with the ESL R1 2023 Spring Major at the RENNSPORT Summit in Munich.
ESL R1 2023 Spring Major final ranking and prize pool winnings:
Place
Driver
Championship
Prize Money
1st
Marcell Csincsik
€45,000
2nd
Luke Bennett
€20,000
3rd
James Baldwin
€12,500
4th
Joshua Rogers
€8,000
5th
Dáire McCormack
€6,000
6th
Erhan Jajovski
€5,000
7th
Kevin Siggy
€3,500
8th
Moritz Löhner
€3,000
9th
Jiri Toman
€2,750
10th
Enzo Bonito
€2,500
11th
Joni Törmälä
€2,250
12th
Marko Pejic
€2,000
13th – 24th
–
Total
–
€112,500
Team Championship results and prize pool winnings:
Place
Team
Team Championship
Prize Money
1st
Team Redline
€45,000
2nd
R8G eSports
€25,000
3rd
Porsche Coanda
€17,500
4th
MOUZ
€12,500
5th
Mercedes-AMG
€7,500
6th
Williams
€5,000
7th
G2 Esports
–
8th
Apex Racing Team
–
9th
Heroic
–
10th
FURIA
–
11th
BMW M Team (BS+)
–
12th
FaZe Clan
–
Total
–
€112,500
Apart from the ESL R1 2023 Spring Major, the RENNSPORT Summit at which the competition took place featured many more highlights, including the much anticipated announcement that the Closed Beta of RENNSPORT will begin rolling out to more players, starting June 6, 2023. More information can be found on the official RENNSPORT website.
ESL R1 will return later this year with a thrilling second season, in which the 48 drivers will continue their races.
For more information about ESL R1, head to the official website, and follow ESL R1 on Twitter, Instagram, TikTok, and Facebook
***
Photos of the ESL R1 2023 Spring Major can be found here.
***
About ESL
ESL creates a world where everybody can be somebody. For more than two decades, we have been shaping the industry and leading esports and gaming innovation globally across the most popular video games, creating a comprehensive ecosystem with opportunities for players to go from zero to hero and for fans to witness the best stories esports has to offer. The ESL portfolio consists of high-profile products such as the ESL Pro Tour, Intel® Extreme Masters, the Snapdragon Pro Series, and many more, ranging from grassroots to global elite competitions. ESL is part of ESL FACEIT Group, the leading competitive games and esports company.
About ESL R1
Setting a whole new standard for virtual racing, ESL R1 – Racing Released is the pristine RENNSPORT esports league by ESL, part of the ESL FACEIT Group. Bringing racing culture to the digital age, ESL R1 places the passionate community of racers right in the driver's seat, ensuring it is always the number one priority. RENNSPORT utilizes cutting edge Unreal Engine 5 technology to bring the incredible virtual racing experience to life, whether you're behind the steering wheel yourself or experiencing the exhilaration of an ESL R1 competition (https://eslr1.com/).
About RENNSPORT
RENNSPORT is a new virtual racing platform that makes ultra-realistic racing accessible to anyone. It's our obsession to create the perfect racing game, ensuring it's an ultra-realistic virtual experience but also fun to drive. Throughout the journey, automotive and game development experts join forces to create a virtual racing hub for all motorsports enthusiasts, and we want to inspire with a bold combination of driving physics developed by experts within the automotive industry, combined with custom Unreal Engine 5 graphics. We create the future of virtual racing and car culture together with you.