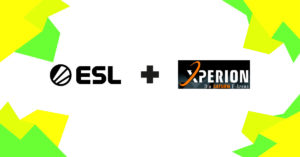 More tournaments, activations and live broadcasts planned in the e-arena over the coming months
Cologne – August 14th 2020 – ESL, the world's largest esports company, has today announced the launch of a debut ESL Shop in Cologne at Xperion, the e-arena of Saturn, one of the leading consumer electronics retailers in Germany. Esports apparel will be experienced like never before when the on-ground shop opens with fans able to view and purchase ESL products for the first time in-store. Further projects are being planned.
The e-arena is destined to be the new hotspot in Europe for esport, gaming, and social media enthusiasts when it opens later this summer as they unite into a new world of experiential retail.
As well as exclusive merchandise, the ESL shop will offer limited edition 'Graffiti Bomber Jackets' and 'Local Hero Cologne' hoodies and t-shirts. Customers will be able to purchase esports team jerseys, including beloved German teams SK Gaming, BIG and mousesports, as well as popular collectable items such as CS:GO and Dota 2 figures.
From July 2020, many activities with renowned gaming influencers or special events, like tournaments, activations and live broadcasts, have been  streamed live on www.xperion-saturn.de. This will continue over the coming months with the official opening of Xperion planned for August 17th. 
"ESL and Saturn both share the passion in bringing esports closer to the fans, and we are delighted to partner up with them to launch our first ever physical ESL store. Based in Cologne, one of the biggest cities in esports, the Xperion centre is set to become the go-to arena for esports enthusiasts in the years to come and it feels only right to develop a greater connection with the esports community by giving fans the opportunity to experience exciting projects coming up in the near future." said Jasmin Haasbach, Director Global Brand Partnerships at ESL.

###

ESL –  is the world's largest esports company. Founded in 2000, ESL has been shaping the industry across the most popular video games with numerous online and offline esports competitions. The company operates high profile, branded international leagues and tournaments under the ESL Pro Tour including ESL One, Intel® Extreme Masters, ESL Pro League, and other premier stadium-size tournaments, to more clearly define the path from zero to hero. ESL also produces the ESL National Championships, grassroots amateur cups, and matchmaking systems, creating a world where everybody can be somebody. With offices all over the world, ESL is leading esports innovation on a global scale through the combination of global ESL competitions, amateur leagues, publisher activations, and more. ESL is a part of MTG, the leading international digital entertainment group. eslfaceitgroup.com
Saturn – Saturn turns technology into an experience for its customers and shows them how modern tech can enhance their lives. Founded in 1961, Saturn is now an independent sales brand under the auspices of the MediaMarktSaturn Retail Group, Europe's number one consumer electronics retailer. In Germany, Saturn has about 150 stores and employs around 8,000 people. Altogether, there are about 170 Saturn stores in three European countries. Saturn's spacious stores are known for their attractive locations, their wide range of brand-name products sold at value-for-money prices, and excellent service and advice. Saturn's brick-and-mortar business in Germany is closely integrated with its online shop www.saturn.de as well as mobile, app-based shopping. Under this multi-channel strategy, Saturn customers benefit from both the advantages of online shopping and the personal advice and services offered by local stores.