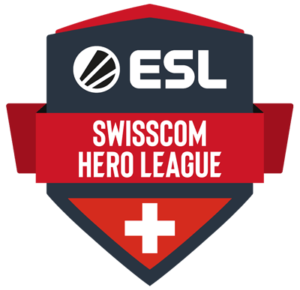 Clash Royale, League of Legends, an international Showmatch and an epic CS:GO upset deliver record-breaking results for Twitch.tv/eslswiss
BERN – October 13, 2020
ESL, the world's largest esports company and Swisscom are thrilled to announce that Season 4 of the Swisscom Hero League set new records across the board. Last weekend, tens of thousands of fans in Switzerland and around Europe tuned in to ESL Swiss on Twitch to watch the Swisscom Hero League Grand Finals. The show was broadcasted live from halls of BernExpo as the capstone tournament of this year's week-long HeroFest, a celebration of gaming culture and esports. Finalists in Counter-Strike: Global Offensive, League of Legends and Clash Royale battled their way towards victory, delivering white-knuckle competition and captivating Switzerland's gaming scene with intense esports entertainment.
With more than 215.000 views, the twitch.tv/eslswiss stream this year broke numerous records during the Grand Finals and pushed total season views to more than 440.000. Once more, the Swisscom Hero League by ESL proved that esports in Switzerland is on the rise and here to stay.
'We're delighted that the Swisscom Hero League has made such great progress over the last two years,' said Richard Jakab, VP Content Sales EMEA at ESL Gaming, 'The results of Season 4 demonstrate that the SHL is growing in popularity among both players and fans and has established itself as the most relevant esports league in Switzerland. We look forward to continued success with our partner, Swisscom.
The Grand Finals started Saturday, October 10th with Clash Royale. Dave "DaTsHiM" Diriwächter, a skilled pro player who was undefeated since his appearance at the Season 3 Finals, faced off against his biggest rival, Karan "Senpai Rekt" Rastogi. 'Senpai Rekt' is widely recognized as one of the most talented esports athletes in Switzerland and has won every Swisscom Hero League Clash Royale title since the inaugural season in 2019. Though the championship saw some extremely close matches, Senpai Rekt managed to take home the trophy in a decisive 3:0 and continued his winning streak. He is now sitting on 4 SHL Hero titles and more than CHF 12'000 in total prize money.
Right before the deciding duel in Counter-Strike: Global Offensive, ESL once again delivered a one-of-a-kind show match between the German gaming legend Lennart "TrilluXe" Köffers and the professional CS:GO athlete, Özgür "w0xic" Eker, who recently joined the well-known North American esports organization, Cloud9. The gaming celebrities were teamed up with Swiss CS:GO athletes and delighted the fans with one hour of explosive gameplay that gave the Swiss players a chance to compete alongside world-class pros.
The biggest highlight on Saturday was the title match between the two CS:GO contenders: Red Instinct and KINGZZZ. Both teams had an extremely successful season, which led to great anticipation ahead of their climactic finale. The Best-of-Three series featured numerous come-from-behind streaks and a dramatic finish that came down to the very last point where KINGZZZ upset the 2-time reigning national champions 2:1.
On Sunday, October 11th, Team Noetic from Fribourg and the recently established organization Lostik fought a heated Best-of-Three in League of Legends. Noetic, the underdog in the series, had to fight the clear favorite, Team Lostik, whose roster includes three established Swiss athletes and two talented Danes, for 1st place and CHF 5'000 in prize money. Noetic made a promising impression off the break and Lostik seemed disadvantaged, with three of their players joining remotely, but Lostik quickly adapted their strategy and proved themselves to be the better team, dominating Noetic soundly and winning the Grand Final in just two maps.
Despite the challenging circumstances impacting live events around the world, the 4th Season of the Hero League was a great success. ESL Swiss took production to a new level, with outstanding graphics, new in-game hud features and an improved replay system. Anchored by talented casters and analysts, this compelling content brought record numbers of viewers back to the channel week after week. Working closely with Swisscom and the community, ESL strives to create an ever-better experience for fans and players, and to contribute to the positive development of the scene in Switzerland. We are confident about the future of Swiss esports and look forward to being back soon with the fifth season.
---
###
About ESL Gaming
ESL Gaming is the world's largest esports and gaming lifestyle company. Since 1994, the company has been shaping the industry and leading esports and gaming innovation on a global scale across the most popular video games with numerous online and offline esports competitions, and through premier gaming lifestyle festivals. The company operates high-profile, branded international leagues and tournaments under the ESL Pro Tour, including ESL One, Intel® Extreme Masters, DreamHack Masters, ESL Pro League, and other preeminent, stadium-size tournaments. ESL Gaming also produces and hosts DreamHack Open tournaments, ESL National Championships, grassroots amateur cups, matchmaking systems, and DreamHack's gaming lifestyle festivals — which feature everything gaming under one roof. ESL Gaming is part of MTG, the leading international digital entertainment group. More information is available at eslfaceitgroup.com.