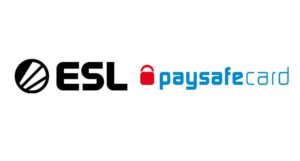 ESL's partnership with the market leader in eCash payment solutions covers various flagship tournaments including IEM Katowice and ESL Mobile Europe & MENA
Cologne – February 18th, 2021 – ESL Gaming, the world's largest esports company, today announced that its long-standing relationship with paysafecard, part of the integrated payments platform Paysafe, will continue into 2021 with a partnership that will enhance engagement across flagship tournaments.
As an official ESL partner, paysafecard has supported ESL's Katowice tournament for many years. This year, paysafecard will extend its support to cover IEM Katowice 2021, the National Championships in both Germany and Poland, and ESL Mobile Europe & MENA for the first time in 2021.
The 2021 partnership will also feature dedicated activations for each tournament that will add value to the viewing experience for fans across the world. These initiatives include an in-broadcast audience engagement segment called "paysafecard Super Fan", for which IEM Katowice viewers are encouraged to share why they are fans of specific players. Stories will be submitted via the IEM Katowice website and the best submission will win an exclusive paysafecard and ESL Gaming goodie bag.
paysafecard aims to support the payment needs of esports enthusiasts by offering a faster, more convenient and more secure way to pay which enhances the overall gaming experience. Customers can simply purchase a prepaid paysafecard voucher in cash at one of 650,000 points of sales worldwide and make payments online by entering a 16-digit code.
Further details around broadcast integrations and activities around ESL Mobile Europe & MENA and National Championships will be revealed soon.
"paysafecard is a long-term, trusted partner of ESL and has shown tremendous commitment over the years to support and grow the gaming and esports communities", said Jasmin Haasbach, Director Global Brand Partnerships at ESL. "As we look ahead to another exciting year of esports in 2021, we are thrilled to have this partner by our side and continue to write great zero to hero stories in CS:GO and mobile gaming."
Konstantinos Maragkakis, esports spokesperson, paysafecard, explained: "paysafecard has a long-standing presence within esports and we are proud of our active contributions to the community over the years. Partnering with ESL allows us to pay tribute to this connection to esports and provide unique opportunities to fans. We are looking forward to another successful year supporting the community as a payment partner."
For more information please visit eslfaceitgroup.com or follow ESL on LinkedIn, Twitter or Facebook.

###
About ESL Gaming
ESL Gaming is the world's largest esports and gaming lifestyle company. Since 1994, the company has been shaping the industry and leading esports and gaming innovation on a global scale across the most popular video games with numerous online and offline esports competitions, and through premier gaming lifestyle festivals. The company operates high-profile, branded international leagues and tournaments under the ESL Pro Tour, including ESL One, Intel® Extreme Masters, DreamHack Masters, ESL Pro League, and other preeminent, stadium-size tournaments. ESL Gaming also produces and hosts DreamHack Open tournaments, ESL National Championships, grassroots amateur cups, matchmaking systems, and DreamHack's gaming lifestyle festivals — which feature everything gaming under one roof. ESL Gaming is part of MTG, the leading international digital entertainment group. More information is available at eslfaceitgroup.com.
About paysafecard
paysafecard, a market leader in online prepaid payment solutions, was founded in 2000 and is headquartered in Vienna, Austria. paysafecard is part of the international Paysafe Group, which provides a broad portfolio of innovative payment solutions and services. paysafecard offers prepaid and online cash solutions under the brands paysafecard, my paysafecard, paysafecard Mastercard® and Paysafecash. Available in over 650,000 sales outlets in 50 countries, paysafecard enables simple and secure online transactions prepaid vouchers. By using a 16-digit paysafecard PIN, customers do not need an account or credit card to pay on the Internet, protecting their confidential financial information. In 2018, paysafecard developed Paysafecash, with which customers can shop online first and then pay for their purchases securely with cash offline at the next payment point. Paysafecash is already available in almost 30 countries. In 2018, paysafecard reached a transaction volume of more than 3 billion euros. www.paysafecard.com
About Paysafe Group
Paysafe Group (Paysafe) is a leading integrated payments platform. Its core purpose is to enable businesses and consumers to connect and transact seamlessly through industry-leading capabilities in payment processing, digital wallet, and online cash solutions. With over 20 years of online payment experience, an annualized transactional volume of over US $98 billion in 2019, and approximately 3,000 employees located in 12+ global locations, Paysafe connects businesses and consumers across 70 payment types in over 40 currencies around the world. Delivered through an integrated platform, Paysafe solutions are geared toward mobile-initiated transactions, real-time analytics and the convergence between brick-and-mortar and online payments. Further information is available at www.paysafe.com.