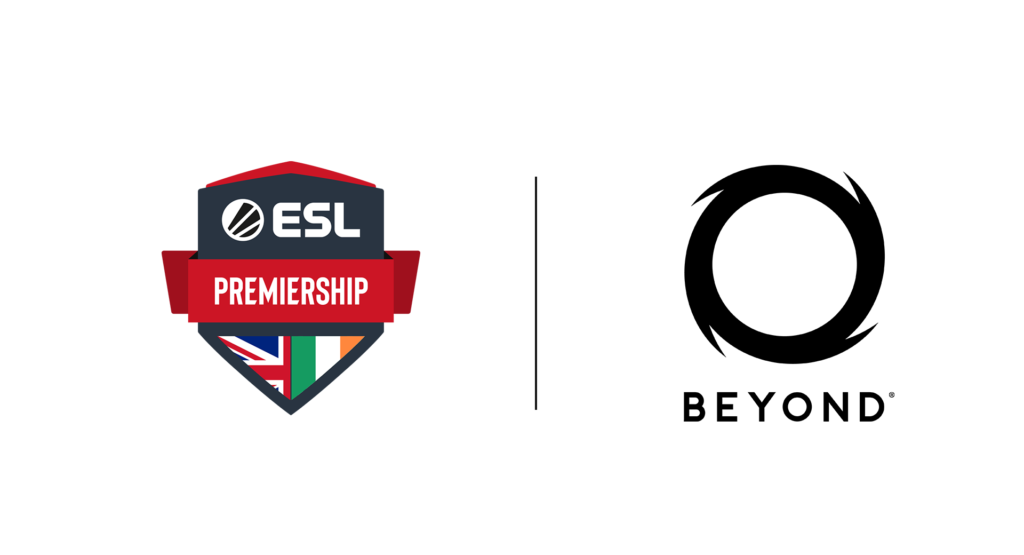 London, UK: The UK and Ireland's longest standing esports tournament, the ESL Premiership, has partnered with Beyond NRG, an emerging energy drink brand manufactured in the South East of the UK, with a focus on providing tangible benefit to competitive play.
Beyond will become an official partner of the ESL Premiership for the spring season across all titles, starting with the CS:GO Season which commences on Monday 1st March 2021. This marks the first substantial drinks brand sponsorship of the domestic competitive scene for ESL UK in the modern era of the tournament. Beyond brings with them a brand new mechanic for the tournament, 'Clutch Moment', which will track and celebrate players who create 'Clutch Moments' in official competition across ESL Premiership broadcast and social media channels. The inclusion of this new broadcast and social activity will be to highlight the individual excellence of players. Fans of the Premiership will be able to enjoy discounts on Beyond products by tuning into the broadcast for exclusive codes.
"We are really excited to kickstart the season with ESL, as supporting British esports is at the heart of our mission here at Beyond. We can't wait to prove ourselves in the industry as the drink that genuinely helps people compete, whilst putting nutrition at the forefront of gamers minds. Our formula is something we worked on for over 18 months, tried and tested in in-game competitive situations, and now is the time for the world to experience what we have worked so hard on." – Billy Webb, CEO, Beyond NRG
"This partnership comes at a time where there's renewed focus on professionalising the health and nutritional options for the industry. From the off, Beyond has approached local esports with an open mind and a fresh enthusiasm to help move these players forward through the path-to-pro system." – Dan Ellis, Partnerships Director, ESL UK
Beyond prides themselves on collaborating and supporting emerging talent across gaming and esports, if you're interested in becoming an affiliate, please fill out the form in the link provided: ​Affiliate Application​.
Fans can tune into the ESL Premiership on the ​ESL CSGO​ Twitch Channel to keep up with all the clutch moments and track the Beyond Clutch leaderboard by following ​ESL UK​ on Twitter.
###
About Beyond Launched in 2020, Beyond NRG is a nootropic, focus and energy supplement built for purpose. The next phase in energy drinks for esports and gamers. Experience a surge of natural energy and zero crash with the Beyond fusion formula. A nootropic stack containing active ingredients, essential vitamins and minerals that are key to enhanced focus, cognitive function and so much more. Beyond has already established strong partnerships with key contenders in the industry such as Warner Bros Games and esports team, Endpoint. Community means everything for the brand, so if you're a streamer looking for a boost on long sessions, a competitive gamer that needs to sharpen up focus, or just to kickstart your day at the office. Beyond NRG is here for you. Visit: ​www.beyondnrg.com​.
About ESL GamingESL Gaming is the world's largest esports and gaming lifestyle company. Since 1994, the company has been shaping the industry and leading esports and gaming innovation on a global scale across the most popular video games with numerous online and offline esports competitions, and through premier gaming lifestyle festivals. The company operates high-profile, branded international leagues and tournaments under the ESL Pro Tour, including ESL One, Intel® Extreme Masters, DreamHack Masters, ESL Pro League, and other preeminent, stadium-size tournaments. ESL Gaming also produces and hosts DreamHack Open tournaments, ESL National Championships, grassroots amateur cups, matchmaking systems, and DreamHack's gaming lifestyle festivals — which feature everything gaming under one roof. ESL Gaming is part of MTG, the leading international digital entertainment group. More information is available at eslfaceitgroup.com.