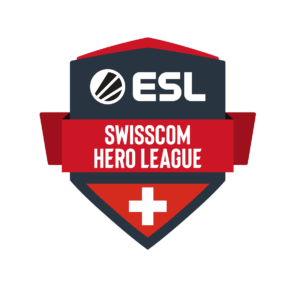 Swiss National Championship returns for PC and mobile gamers with Season 5
Counter-Strike: Global Offensive and Clash Royale qualifiers on February 20th & 27th; League of Legends on April 10th & 11th; Online finals to be held May 8.
Swisscom Hero League Season 5 winners for CS:GO will get shots at a new ESL National Championship global playoffs format as part of the ESL Pro Tour for CS:GO
Bern – 16 February 2021 – ESL, the world's largest esports company and Swisscom, Switzerland's largest telecommunications provider, are pleased to confirm that the 5th season of the Swisscom Hero League will be returning this spring.
With engagement and continued organic growth across all three titles, the Swisscom Hero League has become a mainstay of the Swiss esports scene. Season 4 generated more than 25 million social media impressions and more than half a million views. The fifth season of the Swisscom Hero League will feature the same games as in Seasons 3 & 4: Counter-Strike: Global Offensive, Clash Royale and League of Legends. All game days will be streamed exclusively online at twitch.tv/eslswiss.
Due to the ongoing COVID-19 pandemic, it has been decided that the Grand Finals for Season 5 will be held online in order to minimize the risk to players, staff and fans. They will be streamed on May 8th.
SEASON 5 FORMAT
The Season 5 Format follows the successful evolution of the league, based on feedback from players and the expert ESL tournament administration team. Full information on all three games is available on the SHL Pro Page.
CSGO: Once qualified, the group stage for CS:GO teams will consist of a Best-of-1, double round robin between the top eight  teams. The top six teams will advance to the Best-of-3, single elimination playoff stage. In the playoffs, the bottom four teams will battle it out in the quarterfinals for a chance to advance to the semifinals and face the first and second seeded teams. The final two teams will face off in a Best-of-3 during the Grand Finals.  A more straightforward Pick-and-Ban system has been rolled out for the entire National Championship ecosystem to increase transparency for players and also to be closer aligned with the process used in higher leagues. Additionally, ESL and Swisscom have increased the number of broadcast days during the playoffs, removing the need for fan voting and ensuring that all matches will be streamed.
Clash Royale: Qualified Division 1 Clash Royale players will compete in a single round robin Best-of-5 group stage. The top six  teams will advance to the Best-of-5 single elimination playoffs and the top two competitors will face off at the Grand Finals in a Best-of-5.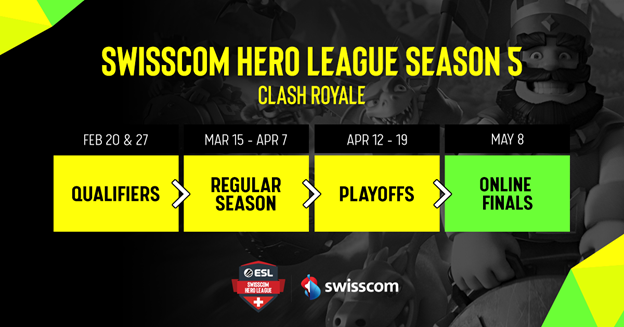 League of Legends: Identical to last season, there is no carry-over of seeding and qualifications. The League of Legends Season 5 bracket will be determined by open qualifiers for all 16 slots that are available to the entire Swiss LOL community. The top 16 teams will then play through a single elimination Best-of-3 group stage where the top eight  teams will advance into the Playoffs. The Grand Finals will be held as a Best-of-3: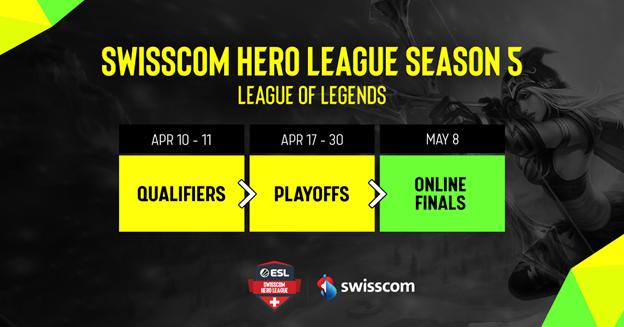 INCREASED INTERNATIONAL OPPORTUNITIES
True to ESL's brand purpose, from Zero to Hero, the Swisscom Hero League gives national champions a chance to catch the attention of esports fans around the world, compete on global stages, and climb to glory. For CS:GO, a newly created National Championship global playoff format will give the Swiss champions a chance to face off against other NC winners and compete for connection opportunities to international events like ESL ONE Cologne, IEM Katowice and DreamHack Masters. For more information on the new structure, please visit the National Championship section on the EPT page.
ESL remains committed to the growth of the Swiss esports scene and its teams and will continue looking for more ways to give players a place to step into the spotlight, gain experience and achieve their goals. For further updates and news throughout the season, keep an eye on our Twitter, FB and Twitch accounts.
###
About ESL Gaming
ESL Gaming is the world's largest esports and gaming lifestyle company. Since 1994, the company has been shaping the industry and leading esports and gaming innovation on a global scale across the most popular video games with numerous online and offline esports competitions, and through premier gaming lifestyle festivals. The company operates high-profile, branded international leagues and tournaments under the ESL Pro Tour, including ESL One, Intel® Extreme Masters, DreamHack Masters, ESL Pro League, and other preeminent, stadium-size tournaments. ESL Gaming also produces and hosts DreamHack Open tournaments, ESL National Championships, grassroots amateur cups, matchmaking systems, and DreamHack's gaming lifestyle festivals — which feature everything gaming under one roof. ESL Gaming is part of MTG, the leading international digital entertainment group. More information is available at eslfaceitgroup.com.
ABOUT SWISSCOM
Swisscom shapes the future and inspire our customers with a cutting-edge network, high-performance offerings and excellent service. In order to promote gaming and Esports in Switzerland, Swisscom founded the Swisscom Hero League in September 2018, with the support of international organiser ESL. The Hero League sees the best Swiss players vying for first place in League of Legends, Clash Royale and Counter-Strike: Global Offensive. Swisscom is also the main sponsor of mYinsanity Switzerland, the biggest Swiss Esports team, and the Swiss Esports Federation (SESF).