LAN Marks Conclusion of Wild Circuit: Game Changers Europe & North Africa
Path to Snapdragon Pro Series Mobile Masters Unveiled through New Brawl Stars Point System
Cologne/New York/San Diego — ESL FACEIT Group [EFG] and Qualcomm Technologies today announced the Snapdragon® Pro Series will host its first multi-title live event at DreamHack Valencia. From December 9-11, top League of Legends: Wild Rift competitors from Europe and North Africa and Brawl Stars teams from Europe, Middle East, and North Africa (MENA) will gather at the Valencia Fair in Valencia, Spain, to face off in the Season 2 finals of the Snapdragon Pro Series Mobile Challenge. Meanwhile, the event will crown the first-ever Wild Circuit: Game Changers champions from a pool of Europe, Turkey, and North Africa's top women Wild Rift competitors.
"Scaled across three days and some of the most popular titles, mobile esports competition will be a focal point of DreamHack Valencia and will be one of our most impactful events to date," said Kevin Rosenblatt, SVP Game Ecosystems, ESL FACEIT Group. "Building upon the growth and momentum of the Snapdragon Pro Series, this event will showcase how access to mobile esports provides one of the most diverse pools of competitors in gaming. We're looking forward to continuing to build upon this program and deliver more opportunities for players to climb the ranks and raise the global profile of mobile esports."
Throughout the weekend, teams will compete across three marquee tournaments:
Day 1 – Wild Circuit: Game Changers: DreamHack Valencia marks the first championship for the women's Wild Rift ecosystem, which rallies the best women competitors from Turkey, Europe, and North Africa as they compete for nearly USD $18,000 in prize money.
Day 2 – League of Legends: Wild Rift EUR & North Africa Finals: Top European and North African talent from the Snapdragon Pro Series Mobile Challenge circuit will battle to be crowned the new championship team and claim the lion's share of the total USD $30,000 prize pool.
Day 3 – Brawl Stars EUR & MENA Finals: Competitors from across the region will convene for the Snapdragon Pro Series Mobile Challenge title and share of a USD $38,000 in one of the top rising mobile esports titles.
DreamHack Valencia will also provide competitors with increased visibility on how to earn qualifier points for the Snapdragon Pro Series Mobile Masters circuit – all while competing to add to the points they have been earning throughout the season. Throughout Season 2, Snapdragon Pro Series competitors will earn on average 20 percent more points on their Road to Masters than Season 1, making each victory even more rewarding. A full breakdown of points earned per placement can be found below.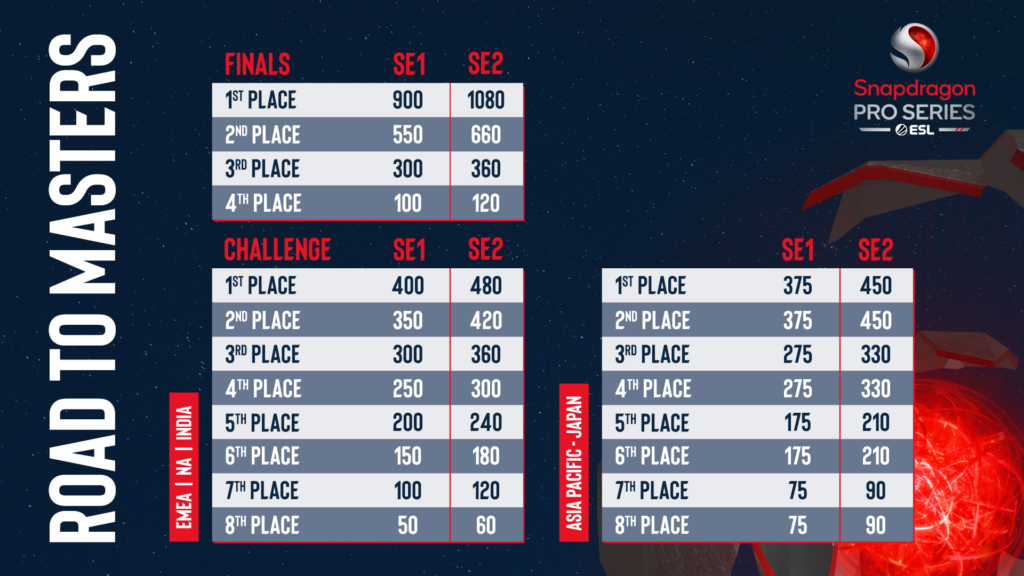 "We're always eager to put the women of the Wild Rift community into the international spotlight – and hosting the finals of the Wild Circuit Game Changers at DreamHack Valencia is a fantastic opportunity to do this." said Maxilmilian Wischow, EMEA Product Lead Organized Play & Wild Rift Esports, Riot Games. "We're excited for fans to witness all the thrills and wild plays that mobile esports is known for – whilst ourselves being proud of the strong ties to inclusion and diversity that both Game Changers and the Snapdragon® Pro Series are driving."
For more information or to purchase tickets to DreamHack Valencia, visit www.dreamhack.es. For details on the Snapdragon Pro Series, visit snapdragonproseries.com, and follow on Twitter, Instagram, and TikTok.
* * *
Snapdragon is a trademark or registered trademark of Qualcomm Incorporated.
* * *
About EFG
The ESL FACEIT Group is the leading competitive games and esports company. At EFG we create worlds beyond gameplay where players and fans become community. The company is built on the great legacy of the world-renowned ESL, FACEIT, DreamHack and DreamHack Sports Games brands. We harness this legacy to further innovate and develop the esports and gaming landscape worldwide. Working with our developer, publisher, brand, and media partners, we deliver products and experiences that accelerate gaming culture and make gamer communities come together. Join us on the journey as we help gaming communities thrive by creating worlds beyond gameplay that unite players, fans, and creators around the esports and games they love.
About Qualcomm
Qualcomm is the world's leading wireless technology innovator and the driving force behind the development, launch, and expansion of 5G. When we connected the phone to the internet, the mobile revolution was born. Today, our foundational technologies enable the mobile ecosystem and are found in every 3G, 4G and 5G smartphone. We bring the benefits of mobile to new industries, including automotive, the internet of things, and computing, and are leading the way to a world where everything and everyone can communicate and interact seamlessly. Qualcomm Incorporated includes our licensing business, QTL, and the vast majority of our patent portfolio. Qualcomm Technologies, Inc., a subsidiary of Qualcomm Incorporated, operates, along with its subsidiaries, Abarcando, research and development functions, and substantially all of our products and services businesses, including our QCT semiconductor business.

About Snapdragon Pro Series
Welcoming players and fans to the Era of Everyone, the Snapdragon Pro Series, delivered by Qualcomm Technologies, Inc. and ESL FACEIT Group, is one of the world's largest multi-genre mobile esports competitions. Spanning across multiple regions, featuring a wide range of mobile games, and including three tiers of competition (Open, Challenge, and Masters), the Snapdragon Pro Series redefines the mobile esports landscape, giving players around the globe, at all levels, a chance to become a champion and compete for a share of millions of dollars in prize money. (https://www.snapdragonproseries.com/)