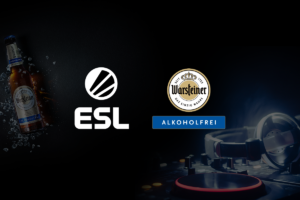 Warsteiner Music Contest offers a chance for emerging musicians and producers to be featured on broadcast with millions of viewers and to get their song signed on to Enter Records
Cologne – August 10th 2020 – ESL, the world's largest esports company, and Warsteiner today announced their Official Supplier partnership for ESL One Cologne 2020: Online. The competition will be running online from Aug 18th through Aug 30th, with 32 teams fighting for a share of the US$500,000 prize pool. The cooperation will also see the newly created Warsteiner Music Contest come to life.
Talented emerging producers and musicians from the Music and Gaming community will be able to participate and get the rare opportunity to be included in the broadcast with over 70 mio. expected viewers and to have their song signed by Enter Records. Artists will be able to send in their unreleased music to be judged by a panel featuring members from ESL, Warsteiner and Enter Records. Submissions will be narrowed down to a shortlist of five songs, with each being played out during ESL One Cologne 2020: Online. The community will then help determine the overall winning candidate, who will be announced before the Grand Final. The winning song will be presented in the livestream and later will be published as part of the official ESL One Cologne 2020: Online soundtrack.
Warsteiner has been partnering with ESL before, kicking off with the German National Championship ESL Meisterschaft (ESLM) 2017 and 2018, as well as for ESL One Cologne 2018 and 2019. Building on a successful music show at ESL One Cologne 2019, Warsteiner will bring this experience to a digital stage in 2020.
"We are excited to once again be partnering with Warsteiner. Continuing our long-standing, successful partnership, we now introduce a new and exciting segment with the Warsteiner Music Contest, adding on to an already thrilling competition for the audience with ESL One Cologne and enriching the fan-experience and creating a wholly new point of attraction.", said Stephan Schroeder, SVP Global Brand Partnerships EMEA at ESL.
Nadja Gaertner, Warsteiner marketing: "We are happy that our successful cooperation with ESL is developing even further. The Music Contest is combining two extremely emotionalising Topics: Gaming and Music."
More details on the Warsteiner Music Contest at ESL One Cologne 2020: Online can be found here: esl.gg/warsteiner.

###

ESL –  is the world's largest esports company. Founded in 2000, ESL has been shaping the industry across the most popular video games with numerous online and offline esports competitions. The company operates high profile, branded international leagues and tournaments under the ESL Pro Tour including ESL One, Intel® Extreme Masters, ESL Pro League, and other premier stadium-size tournaments, to more clearly define the path from zero to hero. ESL also produces the ESL National Championships, grassroots amateur cups, and matchmaking systems, creating a world where everybody can be somebody. With offices all over the world, ESL is leading esports innovation on a global scale through the combination of global ESL competitions, amateur leagues, publisher activations, and more. ESL is a part of MTG, the leading international digital entertainment group. eslfaceitgroup.com
Warsteiner Group – The Warsteiner Brewery is among the largest private breweries in Germany. Founded in 1753, it is a family-run company now in its ninth generation. The Warsteiner Group includes the Herforder Brewery, the Frankenheim Brewery, and the Paderborner Brewery, as well as a holding in the König Ludwig Schlossbrauerei Kaltenberg. Today, Warsteiner actively distributes its products in over 50 countries around the world