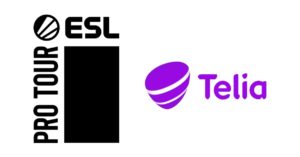 ESL Gaming bolsters distribution portfolio in the Nordics with renewal of deal confirming Telia Finland as the exclusive media partner for ESL Pro Tour CS:GO 2021 in Finnish-language.
Cologne/Stockholm – February 25th 2021 – ESL, the world's largest esports company, and DreamHack, the premier gaming lifestyle festival company, today announced an extension of their partnership with leading Scandinavian telecoms company, Telia. The agreement confirms Telia Finland as the exclusive media partner of ESL Pro Tour CS:GO (Counter-Strike: Global Offensive) in the Finnish-language from January 2021 through to IEM Katowice 2023.
Today's announcement renews ESL and DreamHack's current deal with Telia, having previously announced the telecom operator as the Finnish media partner for the 2020 edition of ESL Pro Tour CS:GO in March.
As part of the agreement, Telia will acquire rights to broadcast ESL Pro Tour CS:GO across various channels within their portfolio including, but not limited to, MTV, C More, Telia TV, and Telia Twitch channel.
ESL and DreamHack recently announced a new vision for the ESL Pro Tour CS:GO for 2021, a move which has seen a restructure of the global competition aimed at maximising excitement for both players and fans around the world. The new strategic approach will see a minimum of 16 teams featured in ESL Pro Tour competitions with group stages and finals spanning over the course of two back-to-back weekends.
In addition, Telia plans to broadcast selected ESL Pro Tour StarCraft II events, bringing the series to the Finnish audience as a localized version.
"Our partnership with Telia has been a great success, providing the Finnish esports community and fans with localised broadcasts of some of the world's biggest CS:GO competitions in 2020," said Frank Uddo, Senior Vice President Global Media at ESL. "We look forward to building on the success of 2020 by working closely with Telia to provide the best viewing experience for our Finnish fans in 2021 and hopefully beyond."
"We are pleased to continue our partnership for ESL Pro Tour CS:GO to reinforce our global esports ecosystem. Our ambition has been to offer the highest level of international esports to the Finnish audience in the local language, and to grow that audience.
In addition, we are planning to offer selected StarCraft II competitions throughout the next year to Finnish fans", said Niklas Segercrantz, Commercial Esport Manager at Telia Finland.
For more information please visit eslfaceitgroup.com or follow ESL on LinkedIn, Twitter or Facebook.
###
ABOUT ESL GAMING
ESL Gaming is the world's largest esports and gaming lifestyle company. Since 1994, the company has been shaping the industry and leading esports and gaming innovation on a global scale across the most popular video games with numerous online and offline esports competitions, and through premier gaming lifestyle festivals. The company operates high-profile, branded international leagues and tournaments under the ESL Pro Tour, including ESL One, Intel® Extreme Masters, DreamHack Masters, ESL Pro League, and other preeminent, stadium-size tournaments. ESL Gaming also produces and hosts DreamHack Open tournaments, ESL National Championships, grassroots amateur cups, matchmaking systems, and DreamHack's gaming lifestyle festivals — which feature everything gaming under one roof. ESL Gaming is part of MTG, the leading international digital entertainment group. More information is available at eslfaceitgroup.com.
ABOUT TELIA
In recent years, Telia has grown from a traditional telecommunications operator to a modern technology and media company offering a wide range of telecommunications, IT and digital services to its millions of consumer and business customers. Telia has 4,000 employees and 4.3 million subscription customers in Finland. We invest each year about EUR 200 million in connections in Finland. www.telia.fi
Telia Finland is part of Telia Company, which operates mainly in the Nordic and Baltic countries. The company's turnover in 2019 was EUR 9.8 billion. The company is committed to being CO2 neutral and waste-free throughout its value chain from suppliers to customers by 2030. www.teliacompany.com