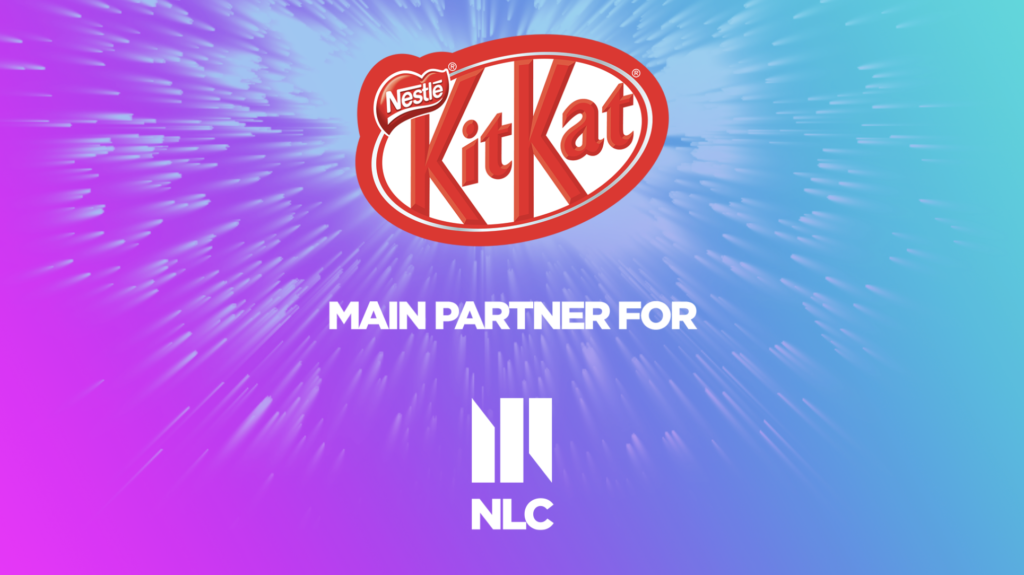 KitKat Also Extends League of Legends Continental League and
European Masters Partnership to 2023 and Becomes Main Partner
of LCL and European Regional League
STOCKHOLM/COLOGNE/NEW YORK – May 31, 2021 — ESL Gaming, the world's largest esports company, and KitKat have announced a new partnership for the 2021 Northern League of Legends Championship (NLC). As part of the new partnership, KitKat will become the first confectionary brand partner of the NLC.
The NLC is the top league run by ESL Gaming through the DreamHack brand and is part of a new competitive esports ecosystem, which is linked to the DreamHack-operated UKLC in the UK and Ireland and the Telia Esports Series — featuring national leagues Finland, Norway, Denmark and Sweden.
KitKat has also announced it will extend and expand its partnership with the League of Legends European Championship (LEC), European Masters competition (EM), and European Regional (ERL) Leagues. KitKat joined the LEC journey as a partner of the LEC 2020 Spring Finals, and the relationship has only strengthened from there. The core message, to "Take a Break", is a great reminder for viewers to find some room to breathe in all the excitement of the LEC — turning technical pauses into an opportunity for fans to rest and gather their energy to keep supporting their team for the rest of the match.
"We are delighted to present KitKat as a new partner for the NLC. Their engagement and dedication bring esports closer to a broader audience," says Stephan Schroeder, Senior Vice President Global Brand Partnerships EMEA at ESL Gaming. "As a non-endemic brand within the portfolio, KitKat sets itself apart as they have recognized the value of competitive gaming and we are excited to kick-off our joint journey."
"It's a pleasure to be working with an organization that is truly passionate about esports. KitKat pursues a clear esports strategy in which the community is approached in a media-appropriate and authentic style on all relevant channels," said Georg Fischer, Marketing Manager for KitKat Europe. "The potential for non-endemic brands across esports and gaming is diverse and still largely untapped. We are very happy to bring the successful partnership with Riot Games to a new level while also joining the DreamHack family."
With this extended partnership, KitKat will continue to be a Main Partner of the LEC and European Masters through 2023, so fans should expect to see their banners through the Summoner's Rift and as a reminder to "Take a Break" in upcoming matches. In addition, KitKat will become a Main Partner for the League of Legends Continental League (LCL) and 12 ERLs for the 2021 Summer Season.
International sports business agency SPORTFIVE facilitated the initial partnership between KitKat and publisher Riot Games while SPORTFIVE subsidiary, build a rocket, is the gaming and esports activation agency of choice in this context.
"We are thrilled to extend our partnership with KitKat for LEC and welcome them on board to European Masters as one of our main partners through a multi-year deal," said Zeynep Gencaga, Senior Business Development Manager for Esports EMEA at Riot Games. "After a creative entry into the scene through a pilot by supporting the LEC breaks, KitKat is now becoming one of the most important partners of esports in Europe. Following the extension of the partnership to European language broadcasts, this summer will showcase the partnership across 12 ERLs. It's a pleasure to be working with the team over at KitKat, who are committed to creating meaningful moments and engaging content for our fans."
The LEC will return on 11 June with KitKat as a Main Partner – more details will be available at lolesports.com.
Full details about the NLC are available on nlc.gg.
NLC Social
* * *
ABOUT DREAMHACK
DreamHack is an immersive, gaming lifestyle experience where the community comes to life. Millions of fans tune in to DreamHack broadcasts each year, and the 24 hour-a-day festival weekends feature everything gaming under one roof. Attendees experience professional esports tournaments, amateur and varsity gaming tournaments, world-famous bring-your-own-computer (BYOC) LAN party, cosplay championship, panels, art, activities, expo, screenings, live music and more. In 2020, DreamHack merged with ESL to create ESL Gaming, the world's largest esports and gaming lifestyle company. The two organizations have been shaping the industry and leading esports and gaming innovation, across the most popular video games with numerous online and offline esports competitions and festivals.
ESL Gaming is part of MTG, the leading international digital entertainment group. More information is available at dreamhack.com and eslfaceitgroup.com.
ABOUT KITKAT
KitKat is one of the most iconic Chocolate brands in the world with presence in over 80 countries around the Globe and promotes since the 1930' 'Have a break, have a KitKat.' As part of the Nestlé family, KitKat is a pillar brand in the company's Cocoa Plan for sustainable cocoa sourcing and at the forefront of innovation in the industry with products like KitKat Ruby or personalized KitKat in its Chocolatory flagship stores. Nestlé pursues an ambitious plan to make KITKAT completely CO2 neutral by 2025. The company recently announced it will invest up to CHF 2 billion to lead the shift from virgin plastics to food-grade recycled plastics and to accelerate the development of innovative sustainable packaging solutions whilst working with others to advance the circular economy and endeavour to clean up plastic waste from oceans, lakes and rivers. For more information, find us at www.nestle.com and follow KitKat on Instagram, Twitter and Facebook.